Antonio Conte has some words of advice for Eden Hazard
The Chelsea forward has been told he can improve and score more goals
Hazard is Chelsea's top scorer so far this season
Chelsea manager Antonio Conte has told Eden Hazard he can still improve his game and score more goals despite another fine individual season from the Belgian.
The 27-year-old has been one of Chelsea's best players for the last few years and continues to carry the team despite a largely disappointing campaign in 2017/18.
Chelsea have looked an unbalanced and unconvincing side in most areas of the pitch, with Hazard one of the few to keep performing at the high level set last season.
Hazard is also the Blues' top scorer with 15 goals this season, just two short of his total in all competitions last term, though Conte is still demanding more.
The Italian tactician is known for being something of a perfectionist and clearly still feels Hazard could be upping his contribution to this team, even if that does seem a little harsh given how much he has arguably out-performed so many of his team-mates.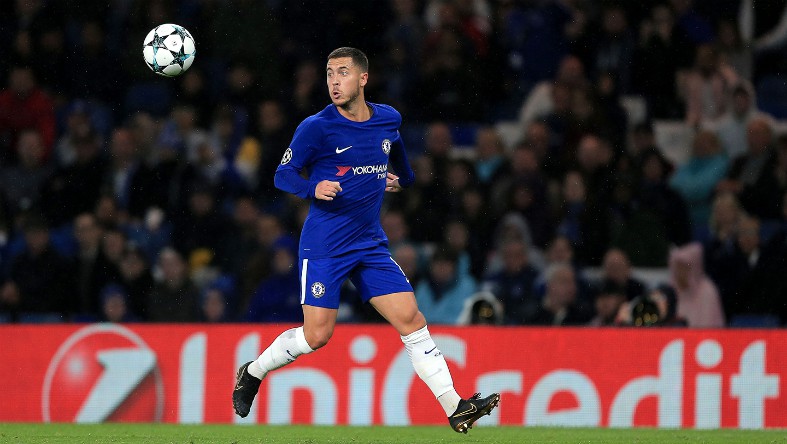 Still, it is true that the Belgium international has been tipped for some time to be up there with big names like Cristiano Ronaldo and Lionel Messi as Ballon d'Or material, and he hasn't quite fulfilled that potential so far.
'Eden is performing well. He's scoring. He can score more. He can improve,' Conte is quoted in the Metro.
'He has the possibility to improve his level, to work very hard with the ball, without the ball, and help his team-mates.
'It's important for the coach to try to speak, to try to improve on the pitch, during the training sessions, to have the conversations for them to reach another level, but it's very important to be yourself. It must be you who has this ambition, this will, to do this.'