Chelsea fans took to social media to offer a flurry of abuse at one star in particular after slipping to defeat against Manchester United. 
Chelsea lost 2-1 at Old Trafford with Jesse Lingard and Romelu Lukaku scoring after Willian's opener. 
Chelsea fans were furious with Alvaro Morata after defeat to Manchester United. 
Chelsea fans took to social media to aim a flurry of abuse at Alvaro Morata following a 2-1 defeat to Manchester United.
The defeat leaves Chelsea rooted to fifth position in the Premier League with Tottenham, Liverpool, Man United and Man City all currently ahead of Antonio Conte's side.
Willian had given Chelsea the lead on the 32nd minute after finishing off a superb counterattacking move.
However, Romelu Lukaku scored his 13th goal of the season in the Premier League to give Manchester United a vital equaliser on the 39th minute after superb build-up play from both Anthony Martial and Alexis Sanchez.
On the 75th minute substitution Jesse Lingard gave Manchester United a winner when he latched onto Romelu Lukaku's cross.
Chelsea fans were understandably distraught with the dropped points, especially after initially being ahead.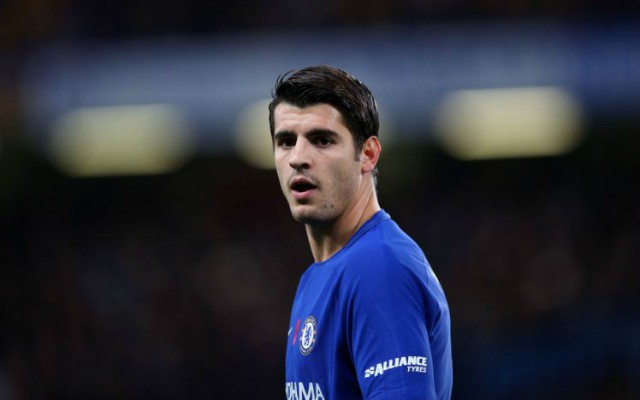 Supporters turned their frustration to Alvaro Morata, who was given the nod over Olivier Giroud today, to suggest that the Spaniard's performances have been far from satisfactory.
Morata looked isolated throughout and was even snubbed by Conte during Chelsea's midweek clash with Barcelona; with Conte preferring to start Eden Hazard as a false nine rather than field Morata in the starting eleven.
Chelsea fans suggested that Morata's Stamford Bridge career should come to an end before it has even really started and lamented that Diego Costa should have never been sold to make-way for Morata who sealed a move from Real Madrid for £58m in the summer from Real Madrid. (Fee per the Telegraph)
Moses and Morata have been horrific

— ' (@False11Firmino) February 25, 2018
TAKE MORATA OFF MAN QURAN JUST SELL HIM

— Tony Ink (@TonyZen_) February 25, 2018
ALVARO MORATA…. aboa! SELL HIM NOW!!!

— Edem (??) (@edem_dogbey1) February 25, 2018
Chelsea's sleepy passing and lazy defending doing them in. Eventually they'll concede again. Morata has been horrific again.

— Ryan Drury (@CKNX_Drury) February 25, 2018
Conte at fault again. No wisdom man will keep Morata on the bitch with his horrific form.

— Ali (@A4CFC) February 25, 2018
I don't care whether people agree with me or not but Morata is an awful striker. Misses 3 sitters a match and spends the rest of the time falling over and losing the ball. Costa, Michy and Giroud are all better. The sooner he leaves the club the better.

— ? (@FinlayCFC) February 25, 2018
Sell Morata as soon as we can

— Richard lavender (@Lavender901) February 25, 2018
Time to sell morata ASAP not worth to play for Chelsea

— Siddanth (@ASiddanth) February 25, 2018
He was problematic, but at least he always play with balls and gave everything for the blue shirt. #SellMorata pic.twitter.com/UFVAhOWUpF

— Hector Hernandez (@SaulGattuso) February 25, 2018
Next manager will sell him

This useless boy can't be playing in my club

A leg of Diego is billion times better than Morata

— Poju (@pojugreat) February 25, 2018
We need to sell Morata! He cannot come and give us problems.

— Cheguevarang (@cheguevara_ng) February 25, 2018