Manchester United's Paul Pogba has been slammed for his role in the Chelsea goal
The Frenchman was beaten to a header by Victor Moses
Pogba then fell over as Chelsea broke and took the lead through Willian
Fans of both Manchester United and Chelsea are ripping into Paul Pogba as he bottled a challenge that lead to the Blues taking a 1-0 lead in today's Premier League game at Old Trafford.
Willian scored for Chelsea after a fine counter-attack from the visitors, but it all came about as Pogba somehow failed to win a header against the far shorter Victor Moses at the other end of the pitch.
The France international instead fell to the ground and failed to get up and track back as Chelsea broke quickly to make it 1-0.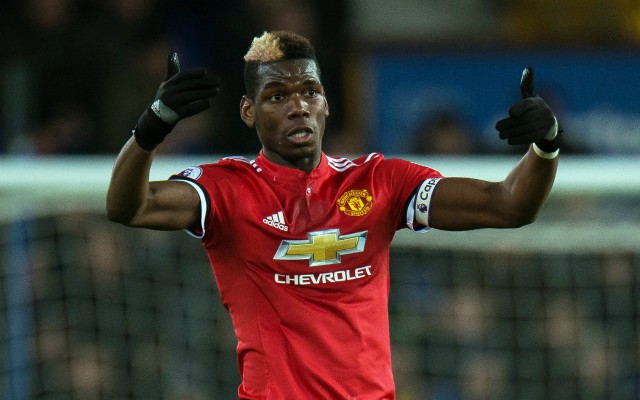 With Pogba finally getting a start on the left of a 4-3-3 for United today, it's seen as a big game for him to prove himself to manager Jose Mourinho after his recent difficulties.
The 24-year-old has not looked an automatic starter in a number of recent matches, and he showed why here as he really should've done better in an aerial battle in which he had a major height and strength advantage.
Fans are not letting him forget it, with United supporters fuming and Chelsea ones mocking as Pogba's error led to Willian's goal on the day…
Pogba beat in the air by moses then they break and score ? what a fraud

— matty clark (@mattyclark10) February 25, 2018
Pogba losing an aerial duel to Victor Moses I've seen it all now

— Gary Vav (@Gary__Vavasour7) February 25, 2018
Pogba was out-jumped by Moses before we conceded

— SN (@Ronynjege) February 25, 2018
All come from Pogba being beat in the air on the edge of there box by Victor fucking Moses

— jordan (@Jordjones__) February 25, 2018
That is one of the most embarrassing premier goals ever conceded. Pogba 6'3″ not competing for a header vs Victor Moses and sitting there asking for a foul. Midfield and defence scrambling all over the place. De Gea beaten front post. Sort it out FOR FUCK SAKE

— Ronan Joyce (@RonanJoyce) February 25, 2018
HAHA still howling over Pogba pulling out of a header with Moses

horrific scenes

— Man Down (@Cody_b__) February 25, 2018
Pogba out-jumped by Moses to start the counter leading to Chelsea's goal…

— ?? (@CallTheKops) February 25, 2018
Pogba getting beaten in the air off Victor Moses lol!

— CJB (@craigjbryce) February 25, 2018