Arsenal are currently at one of their lowest points of the Arsene Wenger era
But none of the current crop of flops feature in this list of Wenger's worst signings
Arsene Wenger and his staff have unearthed some absolute gems in his time at Arsenal. But for every Thierry Henry, Cesc Fabregas and Robin van Persie, there has been… well, one of these guys.
Here is my list of the top 10 worst Wenger signings in his time at Arsenal. I'm hoping that future signings don't head the same way as this lot!
Gervinho
Gervinho came to Arsenal with a very good reputation. He won the Ligue 1 crown with Lille in a team that boasted names including the likes of Eden Hazard and Yohan Cabaye.
He was seen as the replacement for Samir Nasri but most of his performances were as bad as his hairline. A particular low point coming when he missed an open goal in the League Cup loss against Bradford – probably one of my angriest nights as an Arsenal fan. Eleven goals in 69 appearances showed that it was the right decision to ship him out to Roma.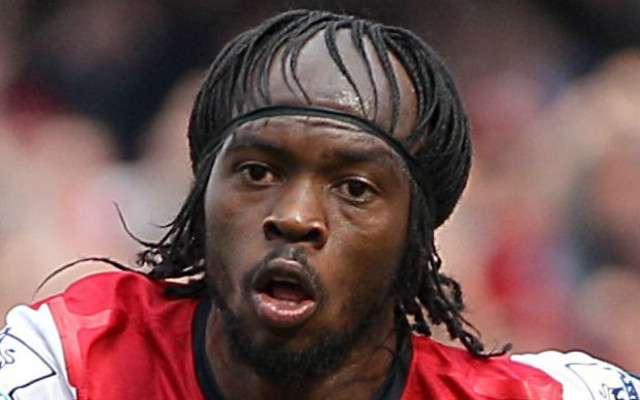 Igors Stepanovs
Not many people will know of Stepanovs, but he is most associated with one of Arsenal's darkest days. He was signed as cover for Tony Adams and played in the infamous 6-1 loss to Manchester United where his confidence took a battering.
He would make a total of 31 appearances over four years for Arsenal before leaving. He won a Premier League medal and two FA Cups in his time but his impact in those runs can best be described as minimal. Even that's being generous.
Amaury Bischoff
A lot of you are probably thinking of the classic Conor McGregor line of "who the f*&$ is that guy?", but this one is probably a bit harsh. Wenger himself said that signing Bischoff on a free transfer in July 2008 was a gamble due to the midfielder's fitness, however it was a gamble that didn't pay off.
He only made one league appearance all season, with a further three appearances coming in cup competitions. He did nothing before leaving to sign with Portuguese side Academica de Coimbra, just a year after signing for Arsenal.
Marouane Chamakh
The Moroccan probably had the best start of all the players on this list. He scored 11 goals in his first 22 appearances, including the fastest league goal in Arsenal's history, in 37 seconds against Wolves in November 2010.
However Van Persie's rise to prominence as the main striker at Arsenal froze out Chamakh who lost both confidence and form, leading to him only scoring a further four goals in the remainder of his 67 appearances for Arsenal.  Probably more well known for the ridiculous amount of hair gel he used more than his goals.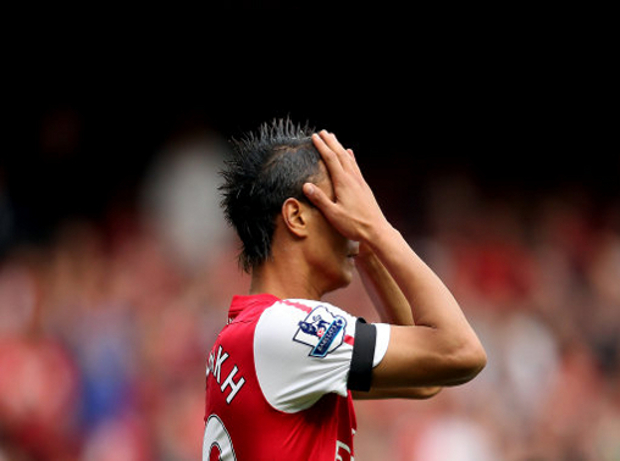 Park Chu-Young
A member of the quartet that was the subject of a panic spending spree that occurred after the 8-2 defeat to Man United in 2011. Signed for £4million, there was intrigue around the South Korean as he was highly rated in France and reportedly walked out of a Lille medical when he was informed of interest from Arsenal.
Scored on his debut in the League Cup against Bolton but questions were raised over his quality and fitness which led to a lack of game time, making only six further appearances for Arsenal before leaving… £4million to sit on the bench, goodness me.
Pascal Cygan
This man is the WORST defender I have ever had the misfortune to lay my eyes on in an Arsenal shirt. Initially featured in some big matches for the Gunners, but his immobile and clumsy defending soon saw him fall down the pecking order.
Cygan never recovered from a string of poor performances and seeing his name on the team sheet always left Arsenal fans with heads in hands, expecting a calamity or two from the bald Frenchman.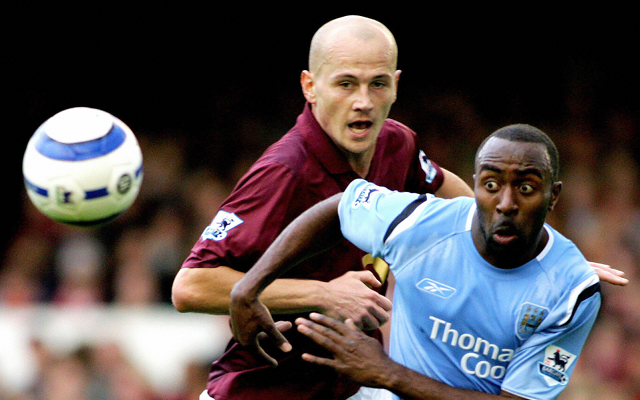 Mikael Silvestre
There was a reason that Man United were so willing to let one of their most understated, but reliable defenders leave for a rival. Simply, he was over the hill and reaching the twilight of his career. Sir Alex Ferguson let Silvestre go because he had lost his pace which was the major contribution to his defensive work.
After a shaky two years at the Emirates he left in 2010 after being a signing which reflected Arsenal's financial restrictions more than anything else. A high point: he scored against Tottenham. A low point: he conceded four goals in the same game, drawing 4-4 after being 4-2 up going into the 90th minute.
Sebastien Squillaci
A signing which, on the face of it, showed much promise. A French international who was fresh off the back of two impressive campaigns in Spain with Sevilla, signed for just £4million too.
Wait a minute, this £4million number is becoming a bit of a jinx.
Anyway, back to this shambles. Squillaci was extremely clumsy in his time at Arsenal, putting in multiple shaky performances in the league which saw him demoted to being a player only used in cup matches. Stayed at Arsenal for three years – probably three years too long.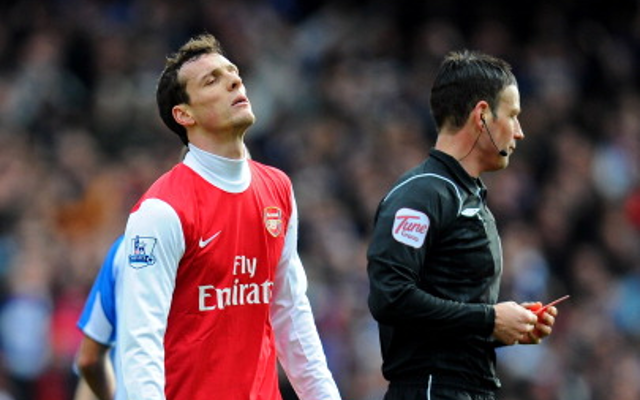 Andre Santos
Santos was another of the panic buys after the Old Trafford drubbing. His finest moment came when he helped Arsenal to fourth place with a goal in the 3-2 win on the final day of the 2011/2012 season.
His worst moment outweighed this though – swapping shirts with ex-teammate Van Persie at half-time after the Dutchman had moved to Manchester United and scored against an Arsenal team including Santos.
He even smiled when they traded shirts. Unforgivable. It was the final nail in the coffin of his Arsenal career as his slow play and lethargic performances meant he was shipped out after just two years and only 25 league appearances.
Francis Jeffers
The famed "Fox in the Box" as Wenger nicknamed the Liverpool native. Signed from Everton for £8million in 2001, he was soon forced down the pecking order by established stars such as Thierry Henry and Sylvain Wiltord.
Then injuries struck and the "Fox in the Box" turned more "Cake in the Urinal", contributing just 39 appearances and eight goals in the three years he was an Arsenal player – even spending one of those seasons on loan back at former club Everton.