In case you'd missed it, Ousmane Dembele has scored for Barcelona against Chelsea to make it 2-0 at half time of tonight's Champions League clash.
The France international has put a frustrating first season at the Nou Camp behind him with a superb effort to give Barca a major advantage in tonight's last-16 game.
MORE: Video: Ousmane Dembele stunner makes it Barcelona 2-0 Chelsea and the conspiracy theorists are out in full force
This did not go unnoticed by one of his old team-mates – Arsenal striker Pierre-Emerick Aubameyang.
The Gabonese forward left Borussia Dortmund for Arsenal this January, just a few months after Dembele left Dortmund to join Barcelona.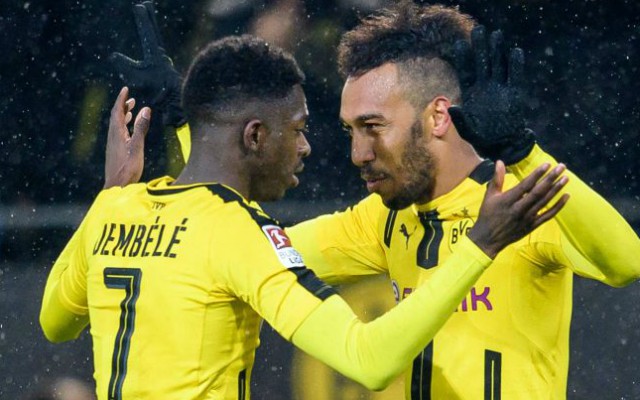 Aubameyang is clearly still a big fan of the youngster, and tweeted this at him shortly after his goal against Chelsea tonight:
@Dembouz ??????????????????????????????????

— Aubameyang P-E (@Aubameyang7) March 14, 2018
This follows recent transfer speculation that Aubameyang wants Dembele to join him at the Emirates Stadium after his tricky start at Barcelona.
Don Balon reported this last month, and it follows a season in which the 20-year-old has not always been a regular starter and has occasionally looked unsuited to Ernesto Valverde's side.
Aubameyang may well just be congratulating his old colleague as things start to improve for him, but some Arsenal fans believe there may be more to it and are getting rather excited…
Agent Auba

— L? (@FlicklikeMesut) March 14, 2018
Yo Pierre send him here

— . (@Auba14i) March 14, 2018
Ramène le à Arsenal gars ????

— Risjo? (@Risjo_Ozil11) March 14, 2018
Bring him Pierre

— corleone (@1GAFC) March 14, 2018