Chelsea joined Manchester United and Tottenham in crashing out of the Champions League this evening as they suffered a 3-0 defeat to Barcelona.
It was fairly one-sided stuff from the word go as Lionel Messi gave Barca the lead after just two minutes, somehow getting the ball through Thibaut Courtois' legs from a difficult angle.
MORE: Video: Lionel Messi scores solo stunner for Barcelona vs Chelsea, makes history for the second time this evening
The Argentine had previously struggled in his meetings against the Blues in Europe, but he was in the mood tonight as he then set up Ousmane Dembele for the second after just 20 minutes.
Though the game already looked over as a contest, Messi made sure of things by making it a brace just after the hour-mark. The 30-year-old beat three Chelsea defenders before another superb effort underneath Courtois, with no one in the Chelsea back line having any answer to his brilliance.
The good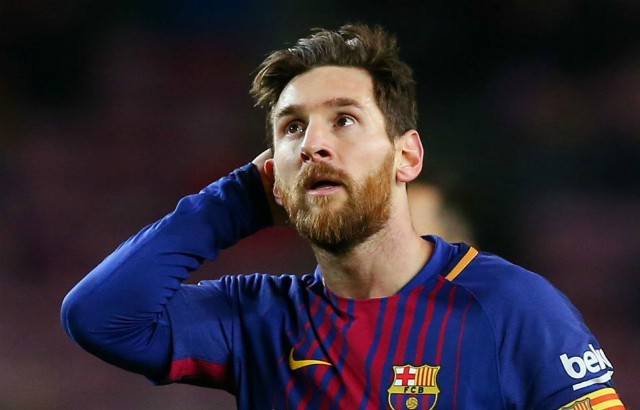 Cristiano Ronaldo loyalists look away now, because it's all Lionel Messi.
The Barcelona superstar put in another memorable performance that will be remembered long after his playing career comes to a close, and he broke a host of records to boot.
Messi in his last 18 games vs English clubs:

? 18 games
? 19 goals pic.twitter.com/mHMLqNS9gy

— CaughtOffside (@caughtoffside) March 14, 2018
First, Messi scored the fastest goal of his career as he made it 1-0 after 2 minutes and six seconds. Given how easy he seems to find it to score goals (he has 602 for club and country now) we're pretty amazed he hasn't regularly just dribbled past entire teams straight from kick-off, but there you go.
Next, Messi scored his 100th Champions League goal when he made it 2-0 in the second half, joining Ronaldo as the only other player to reach a century in this competition.
But it doesn't stop there…in reaching 100 goals in Europe's top club competition, Messi eclipsed Ronaldo by getting there quicker than he did – doing it in just 132 appearances.
And breathe.
The bad
We may be nit-picking a bit, but Courtois could surely have done better on that first goal.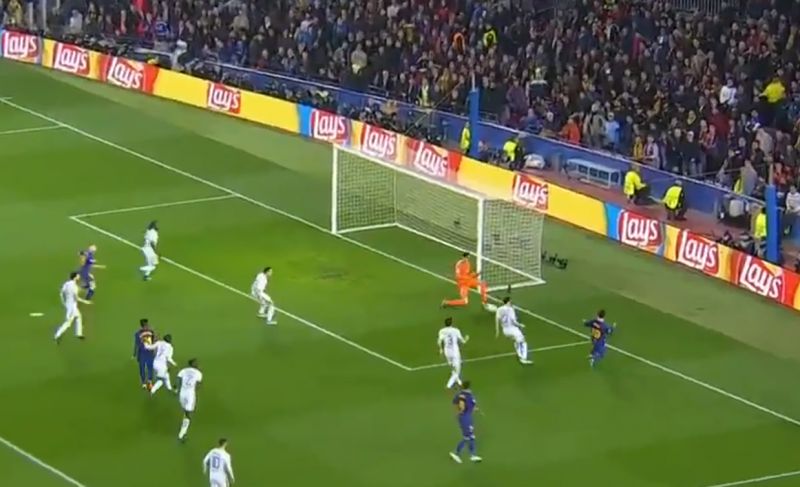 Just look at this still above – Messi, great as he is, is on his weaker foot and not in an ideal position to score from at all, but Courtois' legs are so spread open it's borderline offensive.
The Belgian is undoubtedly one of the best in the world on his day, but he made a mess of this one and gave his side the worst possible start at the Nou Camp.
From then on, there was never likely to be any recovery.
Where's this guy when you need him? ?? pic.twitter.com/lpfUYN4f5z

— CaughtOffside (@caughtoffside) March 14, 2018
The weird
Not to do with the game as such, but Diego Costa raised a few eyebrows with this bizarre behaviour before the match.
The Spain international tuned in to follow his old club and posted an Instagram story of the Chelsea line up, signalling he was sending a message of support to the Blues.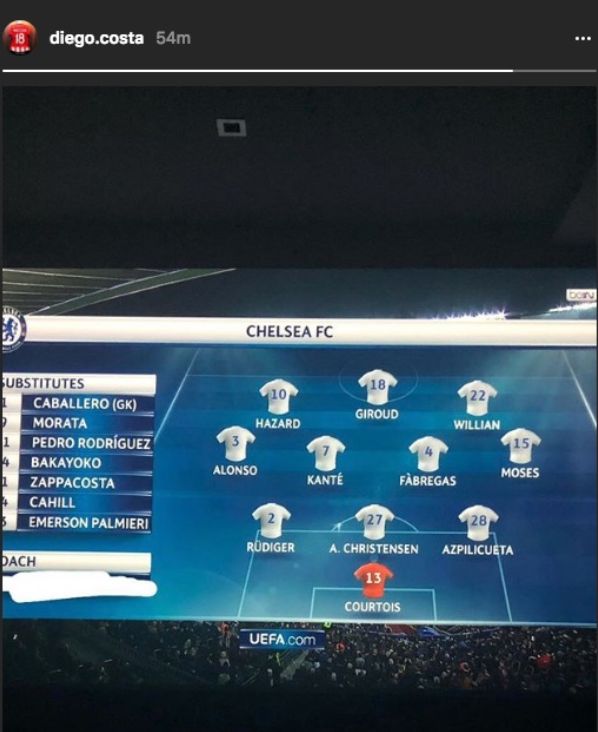 Not included in his well-wishes, however, was manager Antonio Conte, whose name he crossed out.
Think about that. He actually went through the effort of deleting Conte's name from the picture to make his point. Whatever that may be.
It's a new level of petty and we absolutely love it.
Of course, Conte could well face real-life deleting as this result essentially ends Chelsea's season, with speculation already rife that he could be replaced as manager in the near future after a hugely disappointing second campaign in west London.
Wonder how often the Italian regrets sending *that* text when attempting to take on Barcelona with Alvaro Morata and Olivier Giroud as his strike-force.