Manchester United may want to take a look at Memphis Depay stats against some of their own attackers and consider if they made a mistake letting the Dutchman move to Lyon.
After a difficult year and a half at Old Trafford, Depay was offloaded to the Ligue 1 side, but crucially, United have a buy-back clause written into the deal that enables them to bring him back for just £35million, according to the Sun.
MORE: Jose Mourinho tells Manchester United star £70million star has agreed Old Trafford transfer
Depay certainly arrived at United after establishing himself as one of Europe's top young talents at PSV, and it's easy to forget just how quickly he was thrust into the limelight of the Premier League.
The Netherlands international is still only 24 and now seems to be coming into his own at last with some stunning displays for Lyon this season.
Memphis Depay only scores bangers pic.twitter.com/rzIDPPCVOB

— Zito (@_Zeets) February 15, 2018
Memphis Depay 1-0 ASSE. pic.twitter.com/GOdapyoE3m

— Lana (@Cocolitooo) November 5, 2017
Above are just two examples of stunning strikes he's contributed this season, and it's easy to see how United could do with that kind of flair in their side after some dismal showings in the big games this season.
It's all the more damning when they worked so hard to replace their old no.7 with Alexis Sanchez, who has actually fared worse with the famous number than his predecessor.
But how does Depay compare against United's current crop of attackers? Here's a look with a little help from Squawka…
Memphis Depay stats – time to trigger that buy-back option?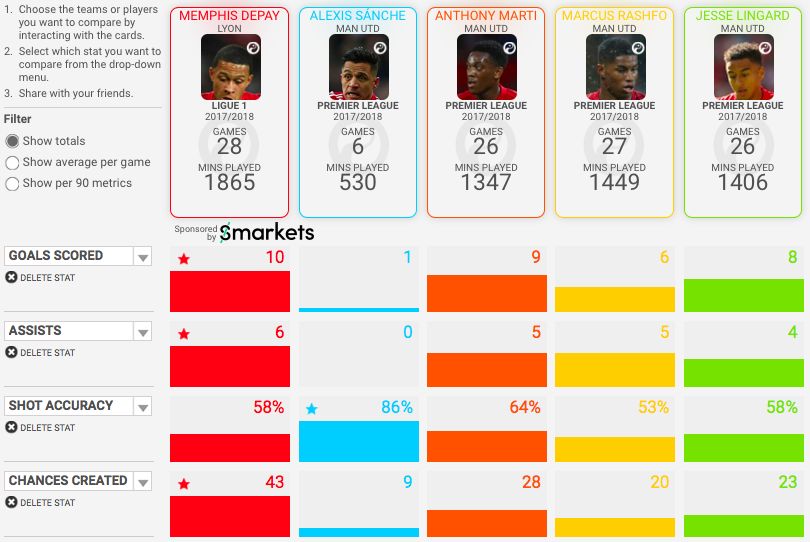 As the Memphis Depay stats against United stars Alexis Sanchez, Anthony Martial, Marcus Rashford and Jesse Lingard show, he's out-performing all of them in most areas this season.
Granted, Sanchez has played just six Premier League games for United, but his total lack of contribution is pretty telling, given the club thought they were signing an established superstar of English football.
With United so often lacking inspiration and creativity against more compact defences, Depay's chance creation stats are perhaps the most impressive – he has made 43 chances for Lyon this term, more than double that of Rashford and considerably more still than Martial and Lingard despite playing a similar amount of games.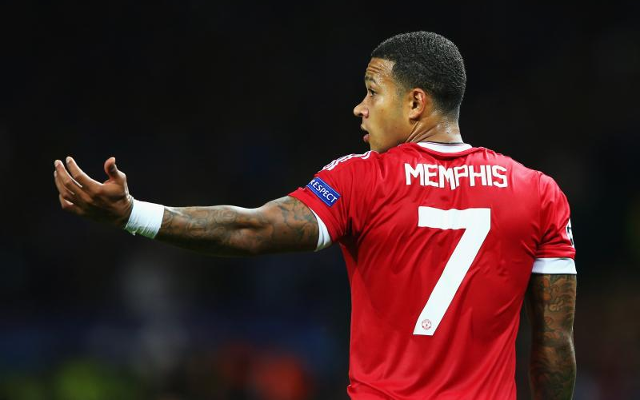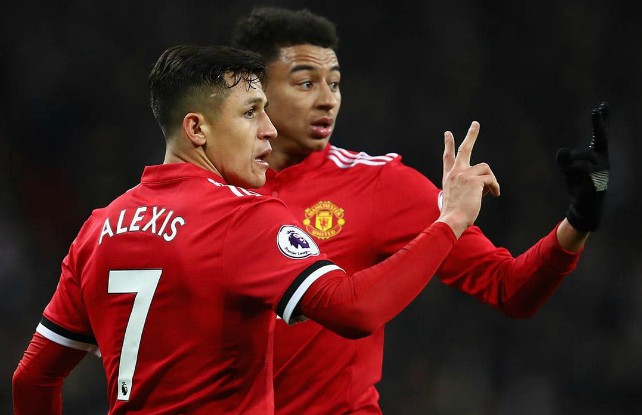 He's ahead of all players on goals, even if only marginally in the cases of Martial and Lingard, but one is certainly left wondering how well the Holland ace could have done if shown the same level of faith Rashford has received – and they say English players are the victims of negative bias!
Sanchez will surely be given time to improve, but with each passing game it looks like Jose Mourinho made a big mistake with replacing his previous no.7 with this one, and these impressive Depay stats could well earn him a big move somewhere else, even if it's not Old Trafford.
Just as Chelsea have learned with Mohamed Salah and Kevin De Bruyne, one careless decision can come back to haunt you again and again and again for years to come.
MORE: Alexis Sanchez 'looks like a lost boy' and like he regrets leaving Arsenal for Manchester United