Zlatan Ibrahimovic returned to Man Utd's training ground on Wednesday, and he had something to ask former teammate Eric Bailly.
WIN up to £1m for picking 6 Correct Scores from this weekend's action (and it's free!) If you're doing well at half-time, you can cash-out for a tidy profit! Just Follow THIS LINK to register and play Betfair's Pick 6 (over 18s only, one entry per customer, terms apply). Entries close at 3pm Saturday, so get your selections in before then!
As noted by BBC Sport, the Swede's exit from Old Trafford was announced last week as he prepares for a new challenge with LA Galaxy.
SEE MORE: Manchester United offer contract to £42m Chelsea transfer target as agent jets to England for talks
It was undoubtedly a disappointing end to his stint with the Red Devils, as after an impressive campaign last year, a knee injury suffered in the back-end of the season continued to cause him issues and forced the two parties into the early decision to split ways.
The 36-year-old scored 28 goals in 46 games in all competitions last season, as he leaves Old Trafford with a Europa League and League Cup to add to his glittering trophy haul from previous spells with the likes of AC Milan and Paris Saint-Germain.
As seen in the image below, Bailly had an interesting response to Ibrahimovic's social media post confirming the news, as he told his teammate to "f*** offff" as it wasn't the first time the pair have shared a bit of banter.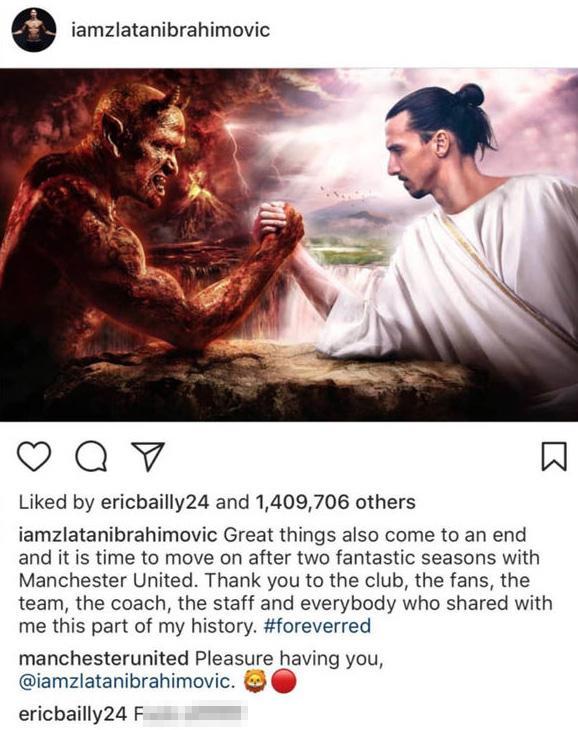 Well, it appears as though Ibrahimovic doesn't forget these things, as after Bailly teased the veteran forward in the dressing room with Paul Pogba on his return to visit the squad, the Swedish ace had words for the centre-half before both burst into a fit of giggles, as seen in the video below.
It's a shame this bromance had to end so soon, as it really does look like Ibrahimovic and Bailly are going to miss each other.