Former Arsenal midfielder Emmanuel Frimpong has revealed his true thoughts on manager Arsene Wenger and a number of his old Gunners team-mates.
The Ghanaian has given a revealing interview with the Daily Telegraph in which he's hit out at former colleague Samir Nasri but largely praised Wenger and a number of other Arsenal players that he knew from his time at the Emirates Stadium.
MORE: Arsenal considering transfer swoop for star after scouting him in Netherlands vs England match
Frimpong was something of a cult hero during his time in north London, even though he barely played and was eventually shipped out.
It's fair to say the 26-year-old hasn't made much of a career for himself on the pitch as he's gone on to play for minnows in Russia, Sweden and now Cyprus.
Still, he continues to give a mean interview and is full of interesting, intriguing and amusing quotes on his time at Arsenal earlier in his career.
It's fair to say he still harbours plenty of resentment towards Nasri, who left the club in controversial style with a move to Manchester City in 2011.
'He's an idiot that I would never ever have respect for,' Frimpong said of the Frenchman.
The tough-tackling midfielder was full of praise for Wenger, however, and hailed Santi Cazorla as a talent who really stood out for him.
'As a young guy he (Wenger)'s the best manager that you could possibly ever have,' he said.
'Santi was completely two-footed and totally unique, so small, perfect technique. Everything was absolutely brilliant.
'He caught my eye as soon as he joined. In training, he was playing with his left foot and his right, and I was like "wow".'
On Nasri, Frimpong added that the pair had a number of blows in the dressing room and on the training pitch that led to their poor relationship.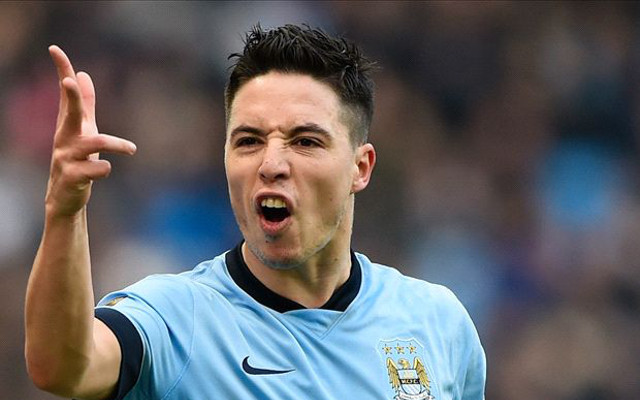 Following his sending off against Liverpool, Frimpong says that Nasri singled him out for the team going on to lose the game.
'When the game ended, we were in the dressing room and I expected Wenger to be really angry,' Frimpong said.
'He was actually very calm, but for some reason Nasri came in and he was like: "We lost the game because of you". I was a young guy, didn't really know what I was doing, and was devastated. I felt like I'd let everybody down and he was really blaming me, so I really didn't like him.
'He always had a go at me if I gave the ball away in training and even said to me once: "I could buy you if I want". To be honest, he probably could have done at the time, but still.'