Arsenal fans were full of praise after Pierre-Emerick Aubameyang showed a touch of class with a gesture towards Alexadre Lacazette against Stoke City.
READ ALSO: Arsenal deploy scouts to watch exciting midfielder ahead of potential transfer
Arsenal comfortably swept aside Stoke City at the Emirates this afternoon and Pierre-Emerick Aubameyang saw a plethora of praise heaped upon his shoulders for a number of reasons.
Arsene Wenger's Arsenal side were the 3-0 victors in today's tie over Paul Lambert's relegation-threatened Stoke City who did little to trouble David Ospina's Arsenal goal.
Arsenal did have to wait until the final 15 minutes before the floodgates opened but their patience was rewarded.
Aubameyang opened the scoring on the 75th minute before adding a second just eleven minutes later on the 86th minute from the penally spot.
Just two minutes later Mesut Ozil was judged to have been bundled over in the Stoke City box on the 88th minute with Arsenal being awarded their second penalty in just two minutes.
All eyes turned to Aubameyang who many naturally felt would step up to seal a hat-trick and an emphatic individual performance for the Gunners.
However, the Gambon international vacated his duty as penalty-taker and allowed Frenchman Lacazette to instead take on the responsibility.
Lacazette has struggled of late to not only find form but also game-time since the arrival of Aubameyang.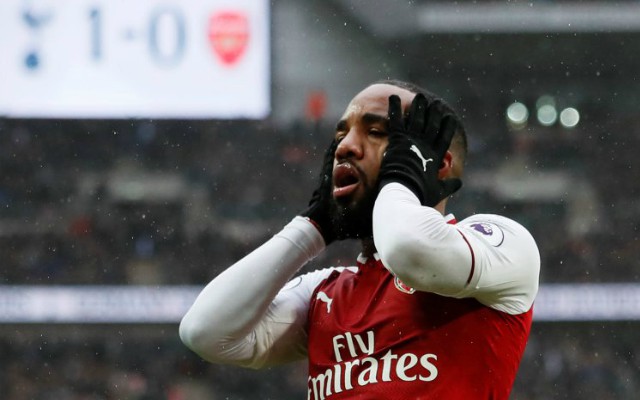 However, after being introduced on the 61st minute Lacazette impressed for Arsenal this afternoon and Aubameyang showed that there is no bad blood between the two allowing the French forward to score his tenth Arsenal goal of the season.
Aubameyang was understandably praised by Arsenal fans on social media for his selfless act.
Great performance by Arsenal today. Class gesture from Aubameyang giving up his hattrick to allow Lacazette to get a goal.

— J (@Emerick14i) April 1, 2018
Aubameyang gave up his hat trick to help laca get his confidence back. Class.

— Zeek ???????? (@zeekzakk) April 1, 2018
Aubameyang could've had a hat trick yet he gave it up to let Lacazette get a comeback goal…
Thought he wasn't a team player? ?
For the first time in years, Arsenal have a truly world class front line ?

— RapaxTheGooner (@RapaxTheGooner) April 1, 2018
Class act from aubameyang letting lacazette take a penalty instead of getting his hatrick #ARSSTK #COYG ?????

— -Yahya (@Aubaccuracy) April 1, 2018
Good set of class between Lacazette and Aubameyang there. No rivalry between the two as we saw.

— GP (@DeadlyXhaka) April 1, 2018
What a class act from Aubameyang to give his penalty to Lacazette so he could end his goal drought!! #ARSSTK

— Marcin kanczugowski (@kanczug97) April 1, 2018
Very selfless from Aubameyang to allow Lacazette take the penalty

— #GLITCH18 (@ITweetArsenal) April 1, 2018
Aubameyang letting lacazette take the penalty instead of going for the hat-trick, how selfless.

— Seeby (@seeby123) April 1, 2018