One Arsenal fan believes Pierre-Emerick Aubameyang's unselfishness in yesterday's win over Stoke City could prove vital in the Europa League later this week.
The Gabon international, who joined Arsenal from Borussia Dortmund in January, scored twice against Stoke but gave up the chance of a hat-trick by allowing Alexandre Lacazette to take the second penalty of the game late on.
MORE: 'Class' – Arsenal fans ecstatic with Aubameyang after 'selfless' gesture to Lacazette
In doing so, the Frenchman was able to score just his second goal of 2018 after something of a dry spell in front of goal for Arsenal, hopefully giving his confidence a major boost.
With Aubameyang moving in the middle of the season, he is cup-tied for Arsene Wenger's side in Europe, so cannot take part against CSKA Moscow this week or any game later on this season in the Europa League.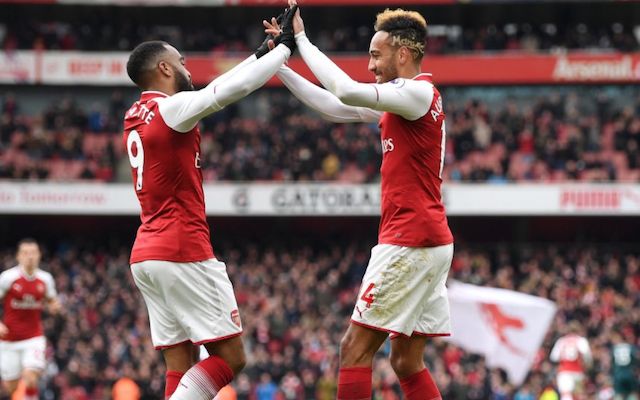 Speaking to Arsenal Fan TV, this Gooner believes Aubameyang really put the team first by allowing Lacazette to finally get on the score sheet and give him the much-needed boost as he's likely to get a start against CSKA Moscow on Thursday.
'Unselfish from Aubameyang, I wouldn't be handing the ball over,' he told AFTV host Robbie.
"The game was very dead until Lacazette came on!" @LeeGunner82
If you were Aubameyang would you have let Laca take the pen?
Full Vid: https://t.co/F8qCM7FNV8 …#AFC #AFTV pic.twitter.com/ZRNbvqAyrC

— ArsenalFanTV (@ArsenalFanTV) April 2, 2018
'Especially when they're fighting for the same place … that's the first time we've seen them both on the pitch together.
'Aubameyang can't play on Thursday, can't play Europa League, so fair play for him to hand that ball over to Lacazette because that's gonna buzz him up and hopefully he's going to start on Thursday and now he's full of confidence because he's got a goal.'
Arsenal will certainly need Lacazette confident and firing if they are to stand any chance of going far in the Europa League, which now looks by far their best bet of qualifying for the Champions League next season.