Arsenal boss Arsene Wenger could reportedly make a big call against CSKA Moscow by playing as close to a full-strength team as possible.
The Gunners remain 13 points adrift of the top four in the Premier League with just seven games remaining this season, and so any hope of qualifying for the Champions League through their domestic position seems out of the question.
SEE MORE: 'Arsene Wenger should hang his head in shame' – Arsenal have been left fuming at one thing after Liverpool's win over Manchester City
In turn, the focus will now be on securing a place at Europe's top table by winning the Europa League, but of course that's easier said than done.
Arsenal's first task will be to overcome CSKA, who arrive at the Emirates on Thursday night hoping to secure an advantage in the first leg to take back to Russia next week.
However, according to The Times, as Arsenal reach the business end of the competition, Wenger is going to  take it as seriously as possible with Petr Cech even coming in for David Ospina in order to give the Gunners the best possible chance of advancing.
Ospina has been used in cup competitions and in Europe to this point, playing in both legs against AC Milan in the last round.
In turn, he would have been expecting to continue to play a prominent role and will be disappointed if dropped, but this report suggests that Wenger is set to make a change and it's understandable for him to go with his No.1 between the posts such is the importance of going on to win the Europa League this season.
Naturally, the veteran tactician will also be buoyed by the return of Alexandre Lacazette from injury too given Pierre-Emerick Aubameyang is ineligible to feature, with the Frenchman getting back on the scoresheet at the weekend too.
As a result, the Arsenal faithful can certainly expect a strong line-up on Thursday as they'll be desperate to go all the way.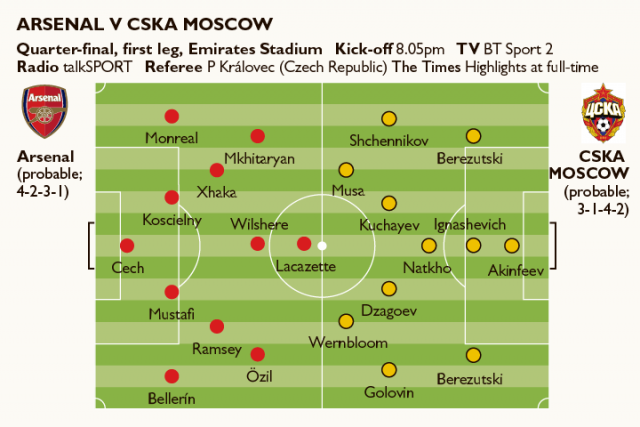 Image courtesy of The Times.