Manchester United fans took to social media to vent their frustrations at one star in particular after a horrific first-half vs Manchester City.
READ ALSO: Manchester United can sign €90m superstar on this one condition
Manchester United fans offered a damning verdict on Chris Smalling following first-half embarrassment vs Manchester City.
Manchester City looked in control vs Manchester United in the first-half of the Manchester derby with Pep Guardiola firmly holding one hand on the Premier League title.
Vincent Kompany opened the scoring for Man City on the 25th minute after heading home Leroy Sane's corner. The Belgian defender was too much to handle for Chris Smalling who could only offer a pitiful attempt at marking the City skipper.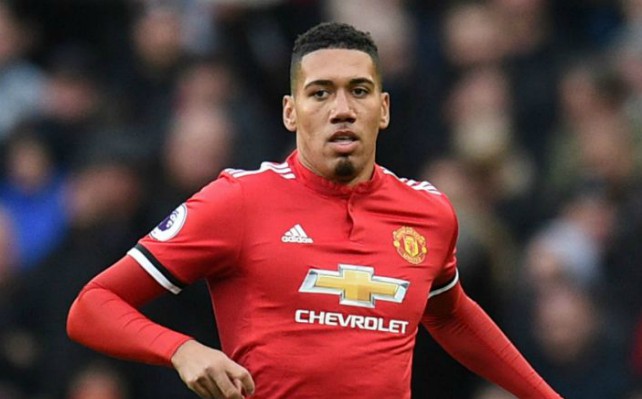 Guardiola's side then rubbed further embarrassment into Jose Mourinho's side just five minutes  later.
German midfielder Ilkay Gundogan produced an astonishing turn inside the United box before finishing off a fine individual move to tuck the ball past David De Gea.
Chris Smalling and Eric Bailly provided little protection throughout the first-half for United goalkeeper De Gea with City carving out a monumental nine chances in just 45 minutes.
United were continually picked apart by the City front three with Raheem Sterling continually finding himself in goalscoring opportunities.
Many United fans offered brutal views on Smalling's first-half performance for United and some suggested his Man United career should now come to an end.
Smalling is absolutely terrible. Kompany bullied him for goal like he was a toddler. Embarrassing

— Kev Morrow (@kevo78m) April 7, 2018
Complete joke of a performance since the first goal went in. Pitiful and embarrassing. Chris Smalling is also 2 years away from a testimonial, sums it up really.

— Connor Parr (@ConnorParr_) April 7, 2018
Smalling is utterly atrocious! How he's still a United player I'll never know! #MCIMNU

— Lee Radford (@akradders) April 7, 2018
Genuinely I'd be disappointed if Luton signed Chris Smalling. He is an atrocious defender.

— Rich Hardy (@richyhardy) April 7, 2018
Chris Smalling lost Vincent Kompany from a corner in 2012 and it cost us the title. He's lost Vincent Kompany from a corner in 2018 and awarded them the title. The same mistakes over and over again. A metaphor for his career.

— Billy (@BilboRocky) April 7, 2018
And that's why we have to get rid of Smalling. Horrific defending.

— Lara Oberholzer (@LaraObie17) April 7, 2018
Time and time and time and time and time again. What the fuck is Chris Smalling doing still wearing a Manchester United shirt. Absolutely fucking horrific. I'd love his funeral.

— Olly Preugschat (@OPreugschat) April 7, 2018
My goodness, Chris Smalling is awful. Horrible defender

— YI (@_Idzszz) April 7, 2018
Bailly-Smalling has never been a partnership. We are awful

— Alaska Thunderfuck (@NickiiDupre) April 7, 2018