It was a packed weekend of Premier League football, and BBC Sport pundit Garth Crooks is back with his team of the week which has a Man Utd flavour to it.
With no Monday night football, Crooks has had the pick of all 20 teams this time round as unsurprisingly it has a strong contingent of United players following their thrilling 3-2 win over rivals Man City.
SEE MORE: What Ashley Young said at half-time, passionate rallying cry inspires Man Utd comeback
Starting from the back though, Joe Hart gets the nod between the posts as he produced a crucial performance in West Ham's 1-1 draw with Chelsea at Stamford Bridge on Sunday.
There's a back-four in front of the England international, with Seamus Coleman, Cesar Azpilicueta, Chris Smalling and Ashley Young getting the nod, and here's where the problems begin.
Both centre-halves scored so seemingly get a big boost from that, but particularly in the case of Young, he had a very difficult 45 minutes in the first half in dealing with City's threat, and was fortunate not to give away a penalty too after the interval.
Smalling had similar issues, losing Vincent Kompany for the opening goal, and so there are certainly strong arguments against those two being the Man Utd players who get the nod for this line-up.
In midfield, there can be no arguments over Paul Pogba's inclusion after his quick-fire double sparked the comeback. Having been given more freedom to get forward, the Frenchman produced devastating results and certainly earns this recognition.
He's joined by Luka Milivojevic and Jonjo Shelvey who both bagged goals, the former grabbing his seventh in 12 Premier League games.
Up top, it's another goalscorer in Christian Eriksen who in fairness continues to dazzle for Tottenham, and he's joined by Marko Arnautovic and Wilfried Zaha in an attacking trident.
This is where Crooks has attracted plenty more criticism though, as he has snubbed Alexis Sanchez after his two sublime assists, while Danny Welbeck's double against Southampton on Sunday has seemingly been disregarded too.
Both arguably deserve the nod here, but they've been left out. As seen in the comments below, the pundit's XI this week hasn't gone down particularly well…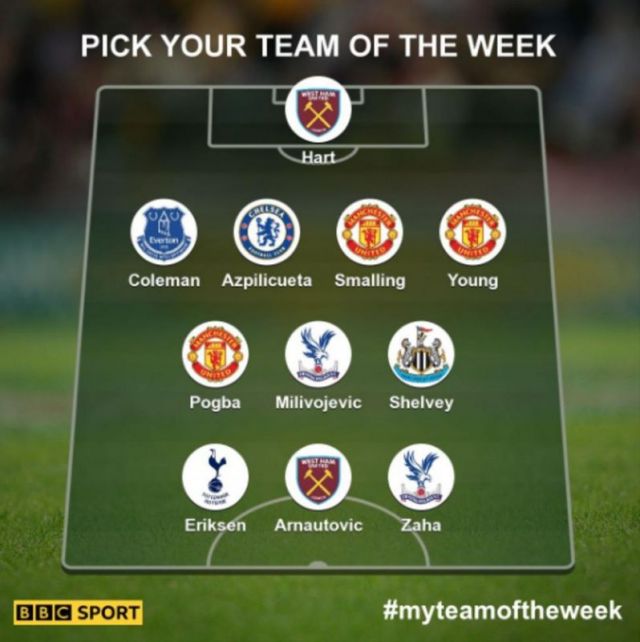 Not Sanchez ???? WTF

— (?) (@BeastAlexis7) April 9, 2018
None of the front 3 scored twice and assisted… So where is Welbeck?

— Jonathan (@Jay_kay5) April 9, 2018
How is Ashley Young in this? And more importantly how is Vertonghen not?!

— Alex (@2000beers) April 9, 2018
Young in the team despite a handball in his own area and a studs up tackle ? Vertoghen an all round legend ?

— Alex (@2000beers) April 9, 2018
No Sanchez? Ran the show

— Mark Harris (@scooterstheking) April 9, 2018
Sanchez was absolutely brilliant

— Elliot ?? (@ElliotBelliss) April 9, 2018
Ashley Young? The Ashley Young who should have had two penalties given against him and been sent off?

— Zak Howells (@ZakHowells) April 9, 2018
Garth, you realise Ashley Young got tortured in the first half and should have given away a pen and got sent off in the second? Oh and Smalling totally lost his man for the first goal, but let's not hold it against them eh?

— Stephen Roberts (@steroberts111) April 9, 2018
Yo does Garth even watch the games or just pick the lads who score?

— Euge Hopkins PT (@eugehop10) April 9, 2018