Celebrity Arsenal fan Piers Morgan has revealed the moment he gave up on Arsene Wenger following the Gunners manager's announcement of his resignation.
Wenger confirmed today that he'll be stepping down as Arsenal manager in the summer and tributes have been pouring in for the Frenchman all day.
MORE: Ivan Gazidis gives clue over who he wants to replace Arsene Wenger at Arsenal
Even Morgan has been among those to praise Wenger, despite long calling for his sacking after a difficult second half to his 22-year reign in north London.
While Wenger won three Premier League titles and four FA Cups in his first ten years at the club, the trophies have dried up since then and the club have had to make do with merely qualifying for the Champions League.
On top of that, Arsenal have ended up selling a number of their star players in recent years, with the departure of Robin van Persie to Manchester United in 2012 apparently being the critical moment for Piers.
Speaking about Wenger today, the Good Morning Britain host revealed that was the moment he lost patience and became firmly in the 'Wenger-out' camp.
'I've led the Wenger Out campaign on social media but I don't feel gleeful,' Morgan told talkSPORT.
'I'm not gloating about it today – I just wish he'd done it years ago. He lost me when he sold Robin van Persie to Man United. That did it for me.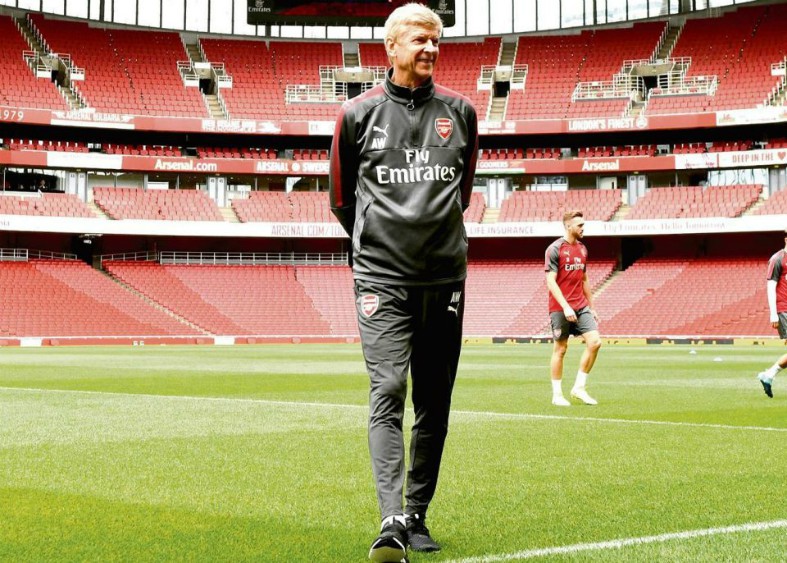 'Last year was Wenger's worst ever year, this year is even worse. It's time to go, I've known that for the last eight years.
'It's a good day for Arsenal, but it's also a sad day for Arsenal. I'll be singing 'one Arsene Wenger' on Sunday – he's done the right thing.
'I would honestly be very happy to call the Emirates Stadium the 'Arsene Wenger Stadium' in the future.
'You cannot now look back on the first eight, nine years of his tenure and not think great things about the early things of Wenger and the way he transformed English football, the way he transformed the way Arsenal played football so it is a sad thing that he is leaving at a time when his stock is so low and when the team has been under-performing for so long because for the first eight years, along with Sir Alex Ferguson, he was arguably the best manager in world football.
'I didn't like seeing Arsene Wenger in this situation. He is a great man, he is a very erudite, intelligent thinker of the game and he was one of our greatest managers and to see him struggle in recent years has been agonising for all the fans.
'The excuses ran out. I've been saying Wenger should go for eight years. Three FA Cups, which by common consent is now a second-tier trophy, in 14 years is not a good enough return for a supposed big club where fans pay the highest ticket prices in Europe.'