There was action in both the Premier League and FA Cup this past weekend, and so BBC Sport pundit Garth Crooks has picked a combined best XI with Man Utd dominating.
It's no real surprise given their thrilling 2-1 win over Tottenham at Wembley in the first of the two semi-finals of the weekend, with goalscorers Alexis Sanchez and Ander Herrera both included.
SEE MORE: Jurgen Klopp branded 'pathetic' in bizarre attack from BBC Sport pundit, three separate digs at Liverpool boss
Sanchez had proven at Arsenal that he relished a big game at Wembley, often making the difference in the FA Cup, and he repeated the trick for the Red Devils with a well-placed headed finish.
Paul Pogba was on the other end of that with an assist, and while he took a little while to get going in the game, he arguably did just about enough to warrant his place in this XI.
Chris Smalling was key in keeping Harry Kane quiet, although Phil Jones will perhaps have an argument of his own if that's what his teammate's inclusion was based on, while Herrera was crucial in midfield and popped up with the all-important winning goal.
Elsewhere, Mohamed Salah's impressive season shows no sign of slowing down as he bagged his 41st goal of the campaign in the 2-2 draw with West Bromwich Albion at the Hawthorns, showing real composure and class to produce a sublime finish.
Danny Ings was also on the scoresheet, ending a wait for a Premier League goal since October 2015, and having also caused the Baggies backline plenty of problems, he has a fair argument.
They're joined by Salomon Rondon up front after his crucial equaliser, while Man City's Kevin De Bruyne completes the midfield after playing another starring role in his side's win over Swansea City.
Alexandre Lacazette, Gabriel Jesus and Bernardo Silva could all arguably make a point of being snubbed after scoring goals and being key in wins for their respective sides.
Wayne Hennessey gets the nod between the posts after keeping a clean sheet against Watford, while Nacho Monreal and Cesar Azpilicueta complete a back three after keeping things tight defensively against Stoke and Southampton respectively, with the former also scoring.
As ever, Crooks' selections were met with plenty of criticism, as seen in the tweets below.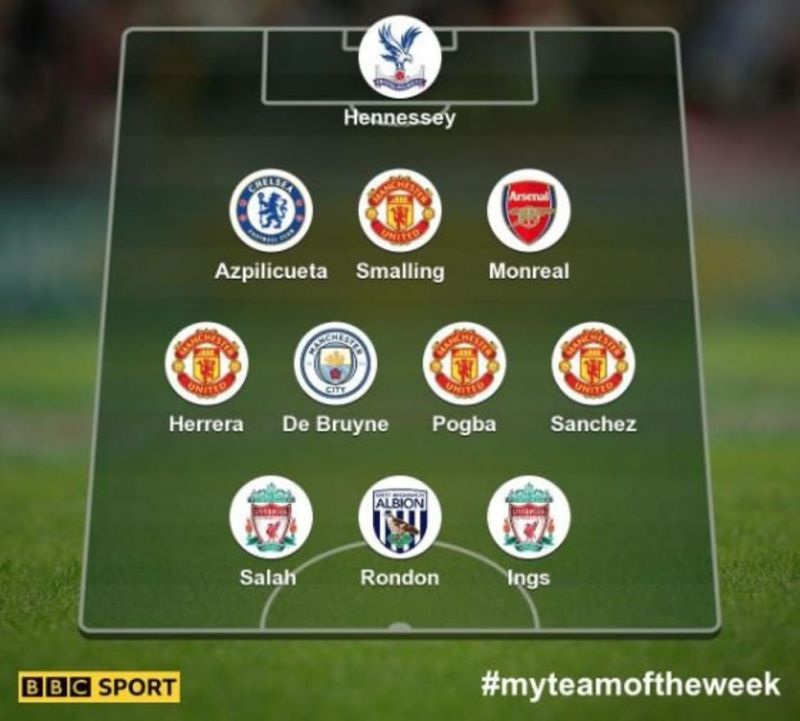 garth crooks ?

— Steve Grocutt (@steve_grocutt) April 23, 2018
Still started with a put down for Pogba ????. If you can't say owt nice Garth, just shut the fuck up

— James Dean Procter (@james_procter) April 23, 2018
BBC have Garth Crooks Sky have Henry, dunno who's the worst pundit

— caolanmcfeely85 (@caolanmcfeely85) April 22, 2018
When will you get him to say what his real issue is with Klopp? Every week he praises the player but uses more words to rip Klopp. It doesn't matter if Liverpool win, lose or draw. Did he find out Klopp's grandad was flying the plane that bombed his Nanna's house or something?

— Link is life (@Damion_Mealing) April 23, 2018
3 digs at klopp in one article, then again he is one of Europe's top coaches and crooks is a fat has been pundit………….

— Martyn Wooles (@martyn_wooles) April 22, 2018
No wonder no one wants to pay license fee with this clueless git talking crap every week

— Z3V (@Z_3_V) April 22, 2018
Pogba?? And no Jones?! Have a word with yourself ffs!

— Zokko (@Zoco1234) April 22, 2018