Time really doe fly – and the World Cup 2018 is only 50 days away.
The World Cup 2018 is less than two months away and ITV will broadcast the curtain raiser as the hosts Russia will go against Saudi Arabia.
READ MORE: Liverpool v Roma – Gary Neville says who he thinks will advance to the final
Meanwhile, defending champions Germany will start against Mexico.
From an England viewpoint, their first two matches against Tunisia and Panama will be on BBC, and the clash against against Belgium will be on ITV.
Five-time winners Brazil will face Switzerland in their first Group E match with Costa Rica and Serbia.
Cristiano Ronaldo's Portugal will play Spain in their first match in Group B, while Lionel Messi's Argentina were drawn in Group D with newcomers Iceland, Croatia and Nigeria.
ITV will get to pick the first two of the last-16 fixtures, and the first pick of the semi-finals with BBC getting the first two picks of the quarter-finals.
The final, on July 15 will be televised by both the BBC and ITV.
Here is a full guide for the World Cup TV schedule below.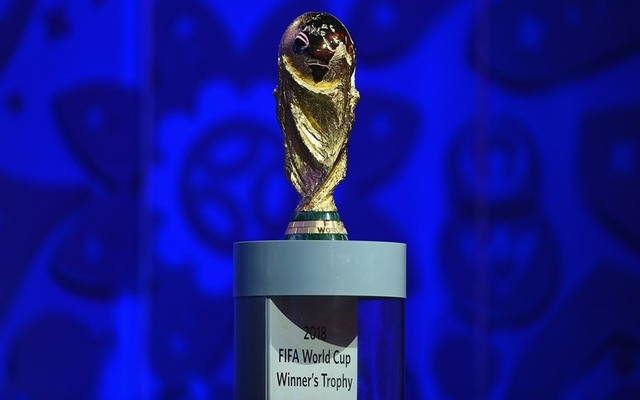 World Cup 2018 TV schedule
1 Thu 14-Jun 1600 Russia v Saudi Arabia ITV
2 Fri 15-Jun 1300 Egypt v Uruguay BBC
3 Fri 15-Jun 1900 Portugal v Spain BBC
4 Fri 15-Jun 1600 Morocco v IR Iran ITV
5 Sat 16-Jun 1100 France v Australia BBC
6 Sat 16-Jun 1700 Peru v Denmark BBC
7 Sat 16-Jun 1400 Argentina v Iceland ITV
8 Sat 16-Jun 2000 Croatia v Nigeria ITV
9 Sun 17-Jun 1900 Brazil v Switzerland ITV
10 Sun 17-Jun 1300 Costa Rica v Serbia ITV
11 Sun 17-Jun 1600 Germany v Mexico BBC
12 Mon 18-Jun 1300 Sweden v Korea Rep ITV
13 Mon 18-Jun 1600 Belgium v Panama BBC
14 Mon 18-Jun 1900 Tunisia v England BBC
15 Tue 19-Jun 1600 Poland v Senegal ITV
16 Tue 19-Jun 1300 Colombia v Japan BBC
17 Tue 19-Jun 1900 Russia v Egypt BBC
18 Wed 20-Jun 1600 Uruguay v Saudi Arabia BBC
19 Wed 20-Jun 1300 Portugal v Morocco BBC
20 Wed 20-Jun 1900 IR Iran v Spain ITV
21 Thu 21-Jun 1600 France v Peru ITV
22 Thu 21-Jun 1300 Denmark v Australia ITV
23 Thu 21-Jun 1900 Argentina v Croatia BBC
24 Fri 22-Jun 1600 Nigeria v Iceland BBC
25 Fri 22-Jun 1300 Brazil v Costa Rica ITV
26 Fri 22-Jun 1900 Serbia v Switzerland BBC
27 Sat 23-Jun 1900 Germany v Sweden ITV
28 Sat 23-Jun 1600 Korea Rep v Mexico ITV
29 Sat 23-Jun 1300 Belgium v Tunisia BBC
30 Sun 24-Jun 1300 England v Panama BBC
31 Sun 24-Jun 1900 Poland v Colombia ITV
32 Sun 24-Jun 1600 Japan v Senegal BBC
33 Mon 25-Jun 1500 Uruguay v Russia ITV
34 Mon 25-Jun 1500 Saudi Arabia v Egypt ITV4
35 Mon 25-Jun 1900 IR Iran v Portugal BBC
36 Mon 25-Jun 1900 Spain v Morocco BBC
37 Tue 26-Jun 1500 Denmark v France ITV
38 Tue 26-Jun 1500 Australia v Peru ITV4
39 Tue 26-Jun 1900 Nigeria v Argentina BBC
40 Tue 26-Jun 1900 Iceland v Croatia BBC
41 Wed 27-Jun 1900 Serbia v Brazil ITV
42 Wed 27-Jun 1900 Switzerland v Costa Rica ITV 4
43 Wed 27-Jun 1500 Korea Rep v Germany BBC
44 Wed 27-Jun 1500 Mexico v Sweden BBC
45 Thu 28-Jun 1900 England v Belgium ITV
46 Thu 28-Jun 1900 Panama v Tunisia ITV 4
47 Thu 28-Jun 1500 Japan v Poland BBC
48 Thu 28-Jun 1500 Senegal v Colombia BBC
Last 16
Match Day| Date| Kick-off| Team/Group| Channel
49 Sat 30-Jun 1900 1A v 2B Pick 1: ITV
50 Sat 30-Jun 1500 1C v 2D Pick 2: ITV
51 Sun 1-Jul 1500 1B v 2A Pick 3: BBC
52 Sun 1-Jul 1900 1D v 2C Pick 4: ITV
53 Mon 2-Jul 1500 1E v 2F Pick 5: BBC
54 Mon 2-Jul 1900 1G v 2H Pick 6: BBC
55 Tue 3-Jul 1500 1F v 2E Pick 7: ITV
56 Tue 3-Jul 1900 1H v 2G Pick 8: BBC
56 Tue 3-Jul 1900 1H v 2G Pick 8: BBC
Quarter-finals 
57 Fri 6-Jul 1500 W49 v W50 Pick 1: BBC
58 Fri 6-Jul 1900 W53 v W54 Pick 2: BBC
59 Sat 7-Jul 1900 W51 v W52 Pick 3: ITV
60 Sat 7-Jul 1500 W55 v W56 Pick 4: ITV
Semi-finals
61 Tue 10-Jul 1900 W57 v W58 Pick 1: ITV
62 Wed 11-Jul 1900 W59 v W60 Pick 2: BBC
Third place play-off
63 Sat 14-Jul 1500 L61 v L62 ITV
Final
64 Sun 15-Jul 1600 W61 v W62 ITV & BBC