Liverpool have been handed a huge boost in a pursuit of a Premier League star.
READ ALSO: Jurgen Klopp hands Liverpool massive injury boost ahead of facing Roma
Stoke City goalkeeper and Arsenal and Liverpool target Jack Butland will be allowed to leave Stoke City if Stoke fulfil an oncoming relegation from the Premier League.
The England goalkeeper has long been linked with a move to both Arsenal and Liverpool over the last season and the Express recently reported that Jurgen Klopp and Liverpool look favourites to sign the star with Butland reluctant to agree a deal to move to the Emirates with a £40m bid from Anfield being prepared.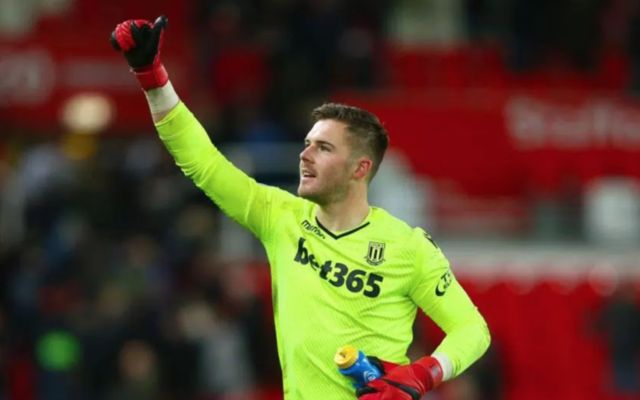 The Sun have today reported that Paul Lambert's side will allow a number of key stars to leave the club if they end up being relegated from the Premier League.
Joe Allen and Jack Butland are among the notable stars that will be granted an opportunity to leave.
While the news that Butland could leave Stoke City, who are three points adrift form safety with just two games remaining, will strengthen his links to Liverpool – it is perhaps Arsenal that could benefit from his services most.
Loris Karius has established himself as a safe pair of hands for Liverpool and Jurgen Klopp in recent weeks but Petr Cech has had a unflattering season for Arsenal.