A Liverpool star has signed a longterm deal at Anfield and fans are ecstatic with the superb social media announcement that came with it.
READ ALSO: Huge boost for Liverpool as £40m target will be allowed to leave Premier League club
Roberto Firmino has signed a new long-term deal at Liverpool and completed the contract in style.
The Brazilian striker has enjoyed a fine season for Liverpool in which he has spearheaded an extraordinary Champions League campaign for Jurgen Klopp's side.
Firmino has also registered 15 goals in the Premier League this season and bar Mohamed Salah he has arguably been the Reds' most impressive star.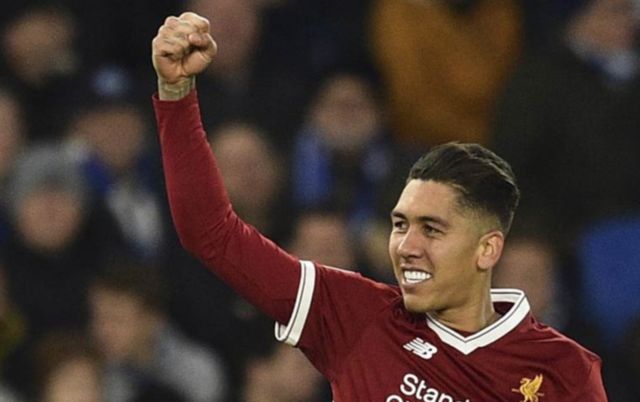 Liverpool published an interview with Firmino in which he stated that he is "very, very happy here." (Comments via Liverpool FC's official website)
The striker is reported to have signed until 2023 and will become Liverpool's highest paid player.
? New contract
? Liverpool's highest paid player
? Signed until 2023

Roberto Firmino has inked a new deal with the club.

He has been directly involved in 42 goals for Liverpool this season ? pic.twitter.com/KI8q3oqriy

— BT Sport Score (@btsportscore) April 29, 2018
The star however stole the headlines with his new deal for the manner in which he signed his new contract.
Firmino has garnered a reputation this season for his impressive no-look finishes and passes. The skilful Brazilian can often use his line of vision to disarm defenders and paid tribute to his signature move by signing his new contract with a no-look signature.
We're not sure if it is quite possibly the cheesiest thing we have ever seen or a moment of brilliance? Either way, Liverpool fans appeared to love it.
??

? Roberto Firmino agrees terms on new long-term #LFC deal: https://t.co/rvxJ30Ochp pic.twitter.com/sUsuABAkrx

— Liverpool FC (@LFC) April 29, 2018
BOBBY NO LOOK!!

— MG (@2hearted925) April 29, 2018
BOBBY NO LOOK!!

— MG (@2hearted925) April 29, 2018