Arsenal fans took to social media at half-time to express their disapproval at one Arsenal star in particular.
READ ALSO: World-class manager rejects job offer and could now replace Wenger at Arsenal
Granit Xhaka was the subject of countless abuse from Arsenal fans following his first-half performance vs Manchester United.
United took an early lead through Frenchman Paul Pogba inside just twenty minutes at Old Trafford as Arsene Wenger's final visit at Manchester United came to an underwhelming start.
Wenger was initially greeted by Sir Alex Ferguson and Jose Mourinho on the Old Trafford pitch prior to kick-off to be awarded a gift as a sign of recognition for his work over the last two decades. Arsenal fans however became frustrated with the French manager's choice of captain for today's clash.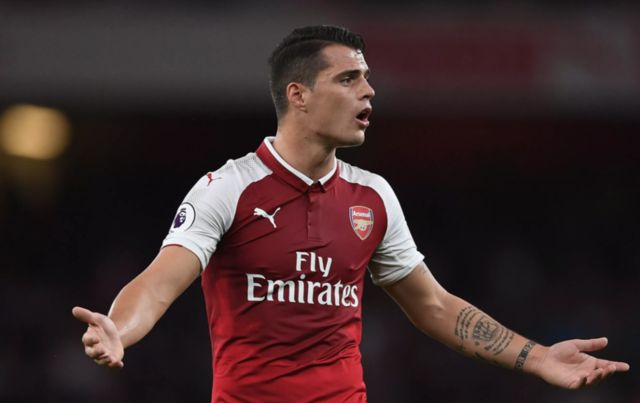 Switzerland international Granit Xhaka was given the armband with many notable Arsenal stars being rested ahead of this week's Europa League semi-final against Atletico Madrid this week.
The midfielder however did little to impress throughout the first-half and was largely outclassed by Paul Pogba. Further, Xhaka was largely at fault for the first United goal and failed to deal with a simple United attack.
Xhaka arrived at Arsenal in 2016 for a fee of £30m but has struggled to win over Arsenal fans in the last two years. (Fee per Sky Sports)
Many Gunners took to social media to once again hurl abuse at the midfielder with some even suggesting he should depart the club at the nearest possible opportunity.
Look at Xhaka without Ozil and Ramsey's runs to create space for him. Useless midfielder against any side that can press him. Sell, Sell, Sell.

— Joga ? (@TakeaBowPires) April 29, 2018
The first thing Allegri must do when he comes to The Arsenal is sell Xhaka. I do not recognize you as my Captain today sir. #MUAFC

— Tiro (@TiroMatlhape) April 29, 2018
I would sell Xhaka right away. It's like playing Barton with Messi and Ronaldo. #Arsenal #MUFCvAFC

— YASH THAKKER (@yashthakker2011) April 29, 2018
First task for incoming manager is to sell Xhaka. Just terminate his contract if no buyers. He is total shit. #afc

— Charles Wilman (@Khaosan05) April 29, 2018
Enjoyed Xhaka's foul on Alexis but really he's been terrible defensively. That dive in on Pogba was… interesting.

— gunnerblog (@gunnerblog) April 29, 2018
Xhaka's mum took his house keys and give them to Pogba. Cuck.

— RG (@registability) April 29, 2018
See how Pogba deleted Xhaka like an infected file

— O O (@otoiks) April 29, 2018