Manchester United fans have taken to social media to express their outrage at one star in particular after defeat to Brighton.
READ ALSO: Manchester United ace closing in on move to huge Serie A club after being told he can leave
Manchester United fans were left frustrated and distraught with Marcus Rashford following defeat to Brighton this evening.
United fell to a 1-0 defeat to Brighton this evening thanks to a Paul Grob goal at the Amex Stadium, which means the newly promoted south-coast side now have guaranteed safety in the Premier League.
Jose Mourinho's side however looked poor throughout and struggled to carve out any clear chances in the first-half.
When they did create chances however, Marcus Rashford offered little in front of goal. The Englishman's decision making was poor throughout and he was unable to take an opportunity to square an easy chance to Anthony Martial in the first-half with his indecisiveness proving to be a crucial moment in United's loss.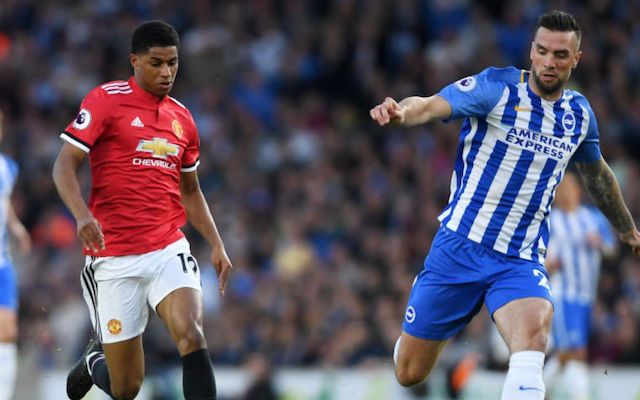 Rashford has of course had little game time at Old Trafford this season and has recently struggled to find starting time with Romelu Lukaku and Alexis Sanchez often being preferred over the English international.
While Rashford has made 33 Premier League appearances, 17 have had to come from the bench.
Many United fans were unsatisfied with his performance this evening and some even suggested that he should exit the club rather than stay.
Literally don't know what our problems are….we struggle every week these days. Decision making from these players are horrific. Rashford has been useless ever since that Liverpool game.

— sat89 (@Abha_89) May 4, 2018
On Rashford. Today was a reality check for the "play Rashford centrally" crowd. This is MUFC with Rashford as the ST. He brings nothing to the table. No real physicality. Horrific decision making. Movement is non-existence. Poor finishing. With Rashford up top, MUFC are aimless.

— Jaydn (@JaydnMUFC) May 4, 2018
Rashford has been horrific today…

— Martiaaaaaaaaallllll (@iamanireddevil) May 4, 2018
Jose Mourinho is fuming at Marcus Rashford there. #mufc pic.twitter.com/YuvYINK9OJ

— United Xtra (@utdxtra) May 4, 2018
As for Rashford, sell him or loan him out. But we definitely can't be starting him next season.

— Jaydn (@JaydnMUFC) May 4, 2018
How long will it take United to finally sell Rashford? This guy is so rubbish. English media is just sentimental and they keep trying to portray him as the next Ronaldo

— Rolls Reus (@IfiokDanAbia) May 4, 2018
I'd sell Rashford and Buy Dybala, can't even break through Brighton and Hove Albion's Defence, another shite game to watch

— Wayne Royle (@1_royle) May 4, 2018
According to Mourinho we don't need an attacker though. I'd sell Rashford and Mata in a heartbeat

— Hasan (@fantastlsco) May 4, 2018
Yer dyslexic son rates Rashford in big big 2018 uno. Would sell him right after the game in a heartbeat for any half-decent player that can perform once every 5 games

— • (@PogbesqueV3) May 4, 2018
Appalling play by Rashford. Mourinho knows as well. Greedy when he should have passed to Martial. The best players give the ball to a teammate in a better position. No excuse for Rashford there. Not decisive enough #MUFC

— Tom McDermott (@MrTomMcDermott) May 4, 2018