Chelsea supporters have taken to social media to express their fury at one Blues player in particular.
READ ALSO: Liverpool line up £70million bid for Manchester United & Chelsea transfer target
Chelsea fans were furious with Alvaro Morata following a 1-1 draw with Huddersfield this evening.
Chelsea were held to a 1-1 draw vs Huddersfield in which the newly-promtied side guaranteed their Premier League safety.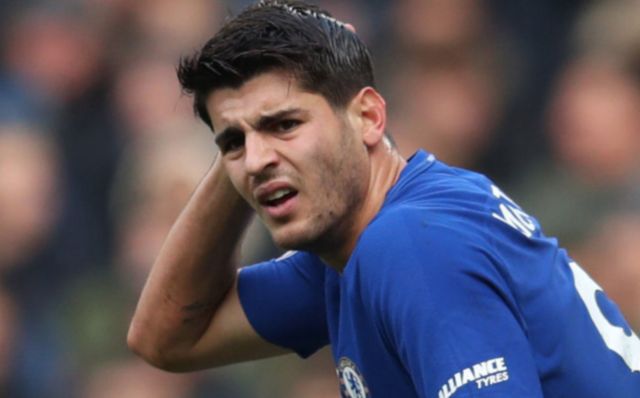 David Wagner's side took the lead on the 50th minute through Laurent Depoitre and while Chelsea registered an equaliser through Marcos Alonso just twelve minutes later, Antonio Conte's men were unable to find a winner.
The Blues have subsequently slipped off the pace for the race for the top four with Tottenham also managing to grab a vital three options this evening during a victory over Newcastle United at Wembley.
Conte's side now sit two points adrift form the top four and will need Liverpool to lose against Brighton at Anfield this weekend in order to sneak into the Champions League qualification positions.
Chelsea supporters however turned their fury on Spanish striker Alvaro Morata this evening.
The Spaniard sealed a move to Stamford Bridge for £58m last summer but has struggled all season to win over supporters following a tricky debut season in London. (Fee per the Telegraph)
Many fans felt he was useless this eveningand carried little attacking threat.
Morata is arguably the deadest striker to play for chelsea. He's fucking awful

— Viraj (@virajj10) May 9, 2018
How Morata played 90 minutes of football today is beyond me. So poor.

— Tess Derry (@tessderry1) May 9, 2018
Conte insists on playing Morata and the brother ain't fit nor mentally ready to play. Smh

— Cool_P (@CoolP_imping) May 9, 2018
I honestly believe Morata is the worst forward ever to play in the Prem. Absolutely dogshit.

— Sid (@Sidneykidney4) May 9, 2018
Morata is the most embarrassing excuse for a footballer

— Borrero (@Juan_Borrero7) May 9, 2018
How the fuck Conte decided that Morata who's been useless all season should start today's game is beyond me.

— Thabo (@Thabo_Guru) May 9, 2018
How did Morata last the full 90 today? Pls guys watch the replay, biggest pussy ever at the club. Pulls out of every 50-50, doesn't even attempt to make a run. Useless sack of shite.

— $ (@Albzino) May 9, 2018
Morata was dismal yet again, I mean for £70 million, he's so lackadaisical, I want some passion he's always 'injured' and you see him on holiday or with his girlfriend dancing! At this point, we ought to sell him and grow Tammy Abraham, I have faith in him! #CFC

— Harry (@hazzachelseafc) May 9, 2018
Pls sell morata Abramovic!

— herny_chelsea (@herny_yanti) May 9, 2018