BBC Sport pundit Garth Crooks has picked his Premier League team of the season, and it's as contentious as ever with Man City dominating.
It's only fair that several City players get the nod though having contributed to a history-making season wth Pep Guardiola.
SEE MORE: Pep Guardiola's Man City eyeing up €70M swoop for key Barcelona stalwart
Having reached the 100-point landmark coupled with scoring over 100 goals in the campaign, it has been a memorable year for the club and various key individuals have played a fundamental part in that success.
Kyle Walker, Kevin De Bruyne, Fernandinho, David Silva and Sergio Aguero all get the nod from Crooks as they've all been pivotal in making City an unstoppable attacking unit, as seen in his BBC column, while Nicolas Otamendi also gets the nod to make it six in total for the champions.
It's always going to be a difficult task picking the team of the season and opinions will differ, but the likes of Raheem Sterling, Leroy Sane, Jan Vertonghen and several others will arguably have a right to feel aggrieved that they didn't get included.
Meanwhile, there's only one Liverpool player who makes it and it's no surprise that it's Mohamed Salah after he bagged 32 goals in 36 Premier League games along with 11 assists as he enjoyed a sensational start to life at Anfield after his summer move from Roma.
Harry Kane bagged 30 goals for Tottenham and rightly gets recognition in the line-up, while David De Gea is selected between the posts just days after receiving the Golden Glove award.
However, two really contentious picks are in the backline, and as seen in the tweets below, many can't quite believe that Brighton's Lewis Dunk and Ashley Young have made the cut.
Liverpool fans were out in numbers insisting that Andy Robertson should have been at left-back as he has been hugely impressive this year, albeit he wasn't in the team in the early part of the campaign.
Crooks was never going to keep everyone happy, but he's certainly raised some eyebrows with those two in particular. Roberto Firmino's snub also resulted in criticism as the Brazilian had a great season, but it's difficult to see who would be dropped with perhaps Aguero the most likely candidate.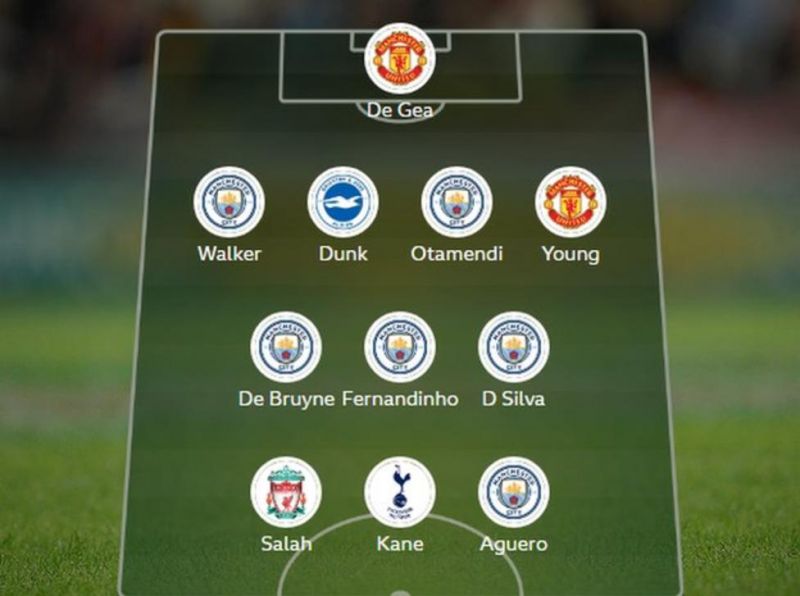 Not even going to bother looking. Just because it's Garth Crooks. How he earns a living being a pundit is beyond belief.

— M rk J mes n (@MarkyJampot) May 14, 2018
Lewis Dunk!!! ?

— Rich Thorn (@RichThorn) May 14, 2018
Dunk?!?!? ????

— Ant De Luca (@antdoggggg) May 14, 2018
How is this man still in a job at the bbc? Hes the bbc version of paul merson at sky, irrelevant/ridiculous opinions on football!

— Markie Smith (@markiesmith84) May 14, 2018
Dunk must be in there for his own goal record??!!

— That(Such A Thing) (@stephentozer) May 14, 2018
Ashley Young ?

— Craig Hughes ? ?? (@Badgerous1) May 14, 2018
Ashley young ?????????????????????????????????????

— Henry (@therockyrider) May 14, 2018
Dunk ???

— ???????? (@McSweggins__) May 14, 2018
Andy robertson easy choice no left back deserves it more disagree all you like

— liam catley (@catley1990) May 13, 2018
Firmino has to be in it.

— Robbie Sargent (@Sarge1972) May 13, 2018
Robertson?!?

— Samir Hussen (@SamirHussen2) May 14, 2018
Robertson is easily the best LB in the league. Whatever Garth.

— Dave (@only1daveoakley) May 13, 2018
No Robertson at left back? What has he been watching? Young the best in that position, really???

— Simon Mincher (@mincher69) May 13, 2018
Andy Robertson?

— Ewan W ??????? (@EwanW0304) May 13, 2018
Where is Firmino??

— Jason Clarke ?????????? (@jasonsimoclarke) May 14, 2018
Andy robertson easy choice no left back deserves it more disagree all you like

— liam catley (@catley1990) May 13, 2018
Andy Robertson robbed

— dale (@dalemccuaig) May 13, 2018