Zinedine Zidane has announced that he is stepping down as Real Madrid manager in a press conference today.
The French tactician is currently appearing alongside club president Florentino Perez in a press conference at 12pm and has made it clear he is walking away from the Bernabeu.
MORE: Real Madrid plot surprise swap deal to beat Barcelona to transfer of £70m Juventus star
'I have taken the decision not to continue next year,' he told reporters in a stream of the conference from Real Madrid's official YouTube channel.
'This is the right moment for everyone, it might seem a bit strange, but it had to be done for the good of everyone, the players, the club, and myself. This team must keep winning, and it needs a change after three years, another voice, another method of working.'
Zinedine Zidane's record as Real Madrid manager:

149 games
104 wins
3 Champions League trophies
1 La Liga
0 European knock-out defeats pic.twitter.com/EhDfVDyz82

— CaughtOffside (@caughtoffside) May 31, 2018
This follows Zidane enjoying remarkable success as Real boss in his two and a half seasons in charge, winning three Champions League titles and one La Liga title in that time.
Florentino Perez was quoted as saying he was disappointed with the decision as he'd hoped Zidane could be a long-term manager for the Spanish giants.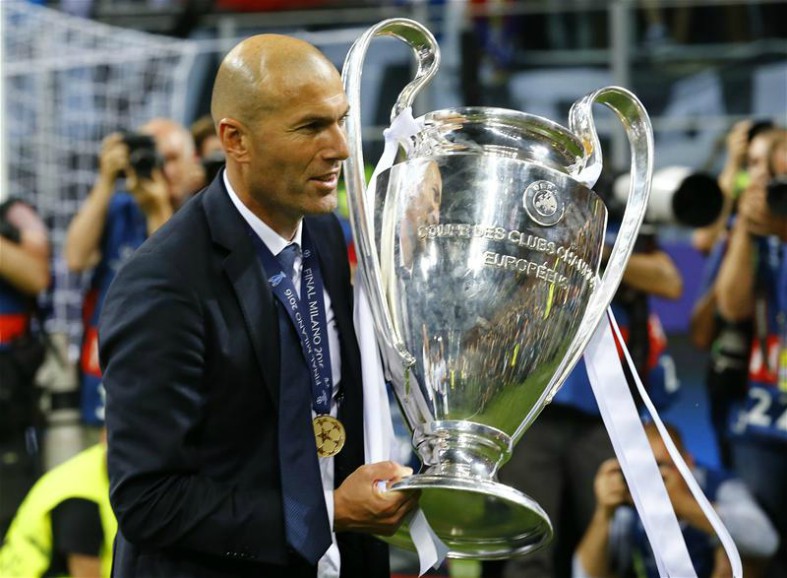 Known for being one of the best players in the world during his playing days, he has already won more Champions League titles than big names like Jose Mourinho and Pep Guardiola.
One imagines a number of top clubs could be queuing up for him as he becomes available.
Some tweets have already been appearing suggesting Chelsea and Manchester United as possible destinations, with Zidane not giving much of an indication over what lies next for him in management.
United !!! Get zidane !!!! Nowwwwwwwwweww

— ob (@jackob92mufc) May 31, 2018
OMGGGGGG ZIDANE PLEASE COME UNITED I BEG YOU KING

— fuego brazy. (@__Bheki) May 31, 2018
Now that Zidane is available, I hope Chelsea is thinking what I'm thinking.

— Gabriel Ogundele (@kneelyee) May 31, 2018
Zidane to Chelsea?? A man can dream

— Mark (@brosnmark) May 31, 2018