Liverpool fans have taken to social media to beg Jurgen Klopp and his board to end negotiations with a certain star for a bizarre reason.
MORE: 'Come to Liverpool' – Reds fans adamant Klopp will pursue star after incredible performance in Germany vs Mexico upset
Liverpool fans no longer want Stoke City goalkeeper Jack Butland to join Anfield after finding out the England goalkeeper watches Love Island.
It is perhaps not only the weirdest story we've had to cover in 2018 but it is perhaps simultaneously a story that personifies and perfectly embodies 2018 – an England World Cup player, Love Island and an over discussed transfer rumour. (It also sounds like the perfect ingredients for a story likely to be found in a gossip column in the Daily Star.)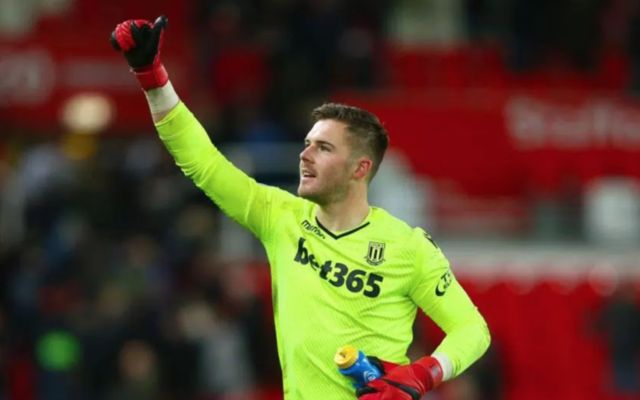 To give some context, Jack Butland has regularly been linked with a transfer move to Liverpool in the past few months and the level of speculation has only intensified upon Stoke City's relegation from the Premier League. The Sun reported last month that Wolves and Liverpool would be locked in battle to sign the £35m rated England goalkeeper.
However, upon Butland posting a tweet on Friday night regarding his enthusiasm for quite possibly the greatest/worst [delete adjective you feel appropriate]  television programme to ever grace British broadcast, Liverpool fans have told him to never come near Anfield.
Me if Alex goes tonight! ? #LoveIsland @LoveIsland pic.twitter.com/cImabJEFrz

— Jack Butland (@JackButland_One) June 15, 2018
Oh Jack. And to think I wanted you @LFC. I'm not sure you Love Islanders are right for an all male dressing room. Take it back, and we can get back to the serious business of proving all my mates wrong about you not being good enough for us!

— Kevin McGuinness (@Kevmcguinness1) June 15, 2018
Yeah definitely don't want you anywhere near LFC now. Cheers.

— AndyG (@clinical_lfc) June 16, 2018
Stay at Stoke

— Only LFC (@Only__LFC) June 16, 2018
Never come to Liverpool

— Englandelliot??????? (@Salaholics) June 16, 2018
A bit much? Most definitely. More importantly, we want to know who else in the England squad is glued to ITV2 at 9pm every night. Big Eric Dier frantically refreshing the Love Island app so he can vote for his favourite couple, Marcus Rashford clutching his personalised Love Island water bottle, Kyle Walker calling every lad on the show 'a mug', big Jack Butland smiling taking it all in and little Raheem Sterling reading fourteen Sun articles in the corner about what he had for breakfast. It's a beautiful image, but perhaps unlikely.