Following Brazil's 2-0 win over Serbia, England fans are desperate to lose to Belgium tomorrow.
MORE: England vs Belgium team news: Huge Premier League superstar ruled out for Belgium ahead of World Cup clash
England fans are begging Gareth Southgate and his players to lose their clash with Belgium to ensure an easier route to the final.
Brazil beat European side Serbia 2-0 this evening thanks to goals from Barcelona midfielder Paulinho and PSG defender Thiago Silva.
The Brazilian victory subsequently means that England will likely face a far more challenging route to the final if they top their group.
Brazil topped Group E this evening and will therefore face Mexico in the first knockout round and could then progress through to face the winner of Group G (which will be either England or Belgium).
Further, following Argentina finishing second in their group it has resulted in a incredibly top-heavy half of the tournament tree. One half certainly looks far easier than the other and if England beat Belgium on Thursday evening to top Group G, they will find themselves on the much tougher half of the knockout stages.
England's potential World Cup route if they top the group can be seen below.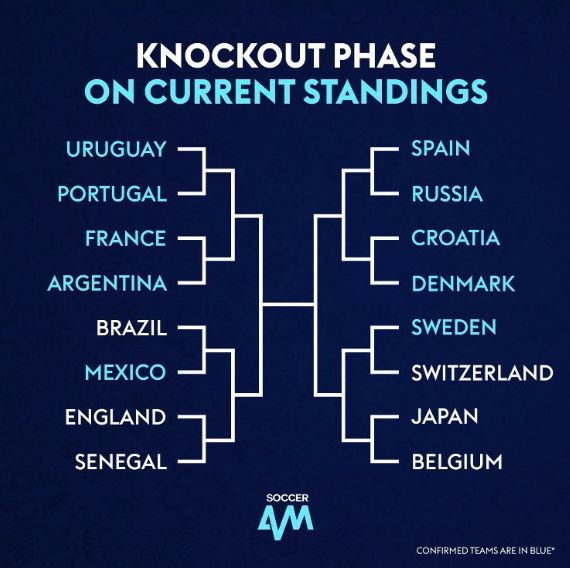 A debate has erupted this evening with some England fans calling on Southgate to throw the fixture vs Belgium in order to secure an easier route to the final.
However, Belgium are in exactly the same position. Should both sides decide they would rather suffer defeat in order to secure a better knockout opportunity it could produce an 'interesting' 90 minutes.
What would you do if you were Gareth Southgate?
England need to lose tomorrow. #semis

— Kyle Addle (@kyleaddle) June 27, 2018
Lmao just saw the World Cup bracket thingy england need to lose tomorrow

— Footballs coming home ???????? (@GriziSZN) June 27, 2018
So both Belgium and England need to lose to avoid Brazil in the quarters, perhaps we should play without a keeper.

— Daniel Jones #FBPE #DBMIVR (@Daniel252525) June 27, 2018
Please lose tomorrow @England. Thanks.

— jersey linguard (@Ammarrrggghhh) June 27, 2018
Hard to say you want to lose a game on purpose but surely England must want to finish 2nd in group to avoid Brazil and that side of the draw?? Japan/Senegal/Colombia – Sweden or Switzerland- Yes please!! Semi finals beckon and then who knows

— Damian Fahy (@kopite2303) June 27, 2018
Brazil top the group! Please lose tomorrow England

— Zac (@avfczacc) June 27, 2018
With today's results, there is now a strong incentive for both Belgium and England to lose tomorrow, potentially robbing us of what could have been the most entertaining match of the tournament. Change the format please #WorldCup

— Evan Weston (@EvanLWeston) June 27, 2018
Why do we have to be so good ????? Can we lose tomorrow please ?? #WorldCup #England #ThreeLions https://t.co/iiveSHMRiO

— Nick Brown (@iamNick_Brown) June 27, 2018