Nigel Farage appears to have been exposed for only pretending to follow England's win over Colombia last night.
The former Ukip leader, supposed proud patriot and self-proclaimed man of the people, initially made a bit of a blunder in a tweet saying he'd never seen England win on penalties before.
While Farage may well have been referring to the fact that this was the Three Lions' first victory on spot kicks at a World Cup, they actually beat Spain on penalties as recently as 1996, but perhaps he just wasn't watching.
It was then pointed out that it didn't look like the 54-year-old was watching this time either, with the picture in his tweet found to have been from the Belgium game last week.
Journalist Daniel Storey pointed out to Farage that he couldn't have been watching the game against Colombia as he was presenting his radio show at the time, and in fact attacking the country over Brexit negotiations.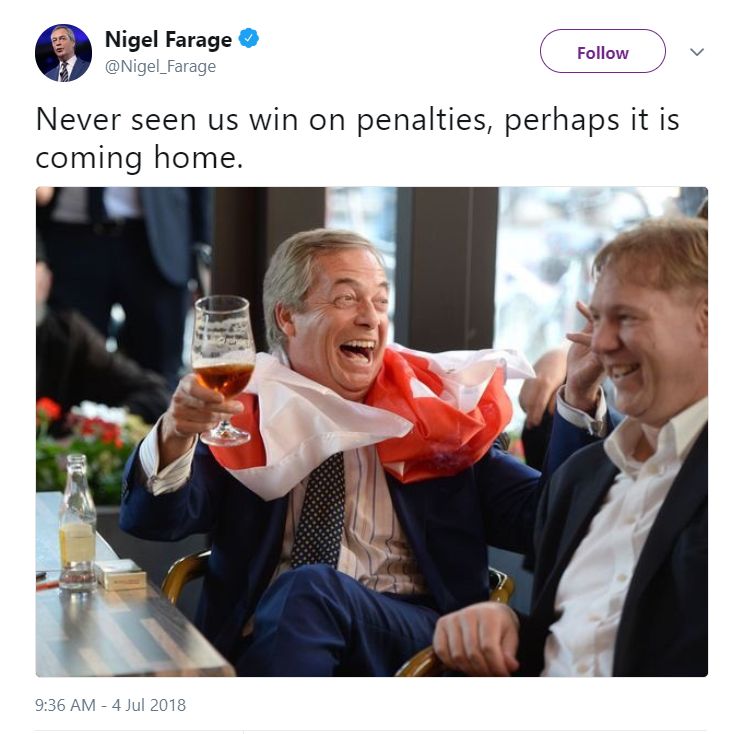 Politicians love to jump on the football bandwagon during World Cup time, particularly if England do well, but more often than not it comes across as hollow and insincere.
Former UK prime minister David Cameron notably once forgot which team he supported, confusing Aston Villa with West Ham, and it seems Farage isn't actually as bothered about England as he lets on.