By Caught Offside in partnership with MuchBetter
Nothing beats the sight of a 'thunder bastard' shot crashing in off the crossbar or a full-blooded slide tackle right? Wrong. Some of the most memorable moments in football history are entirely 'contactless', whether it's a beautiful dummy assist, a glorious airshot or a blatant dive. Speaking of which, Neymar has become a byword for theatrics this World Cup, rolling around under minimal or zero contact.
It's why he joins the list of the most memorable 'contactless' moments in football.
That Pele dummy
Starting with arguably the greatest footballer of all time, Pele, who scored with a dummy so delightfully impudent that it would delight fans still today, let alone in 1968 when this kind of thing had never been seen before. Certainly not in a football match as big as this. Watch how the master makes a real dummy of the Uruguay keeper, commentators and spectators alike
2.  Zidane rues World Cup bow
From one master to another… Zidane's last World Cup game is most famous for his head making contact with Materazzi's chest, but it is the image of Zidane mournfully walking past the iconic World Cup trophy that will haunt France fans forever. Oh what could have been.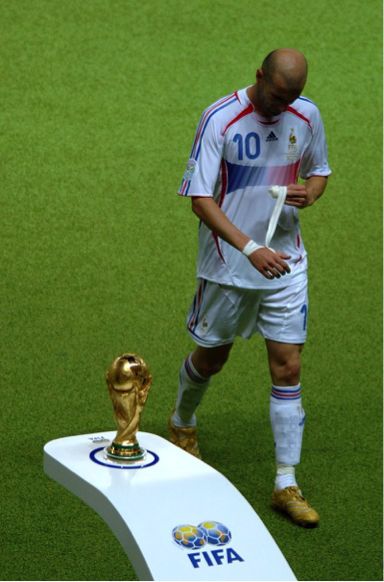 3. That Ashley Cole photo
To lighten the mood, it's Ashley Cole looking out of touch with his Roma teammates, both literally and metaphorically. When your team photo is easily your most memorable moment with a football club, it's fair to say that this wasn't the most inspired move for the player or club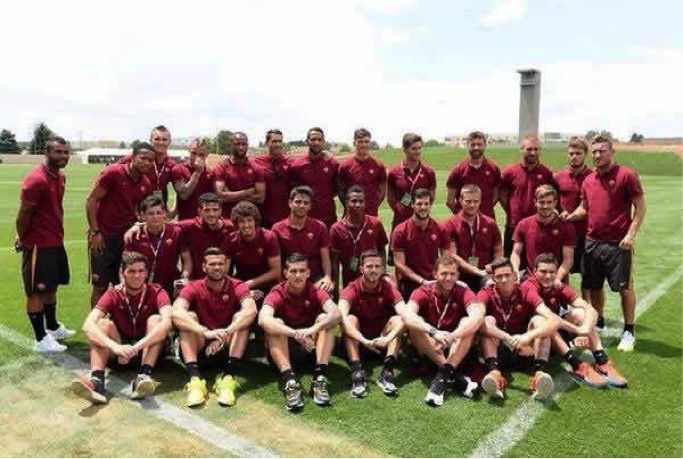 4. That Steven Gerrard slip
The infamous Steven Gerrard slip that handed Chelsea the title in 2014 will live long in the memory of Premier League football fans. It inspired a song so hurtful that it was sung not only by Chealsea fans, but any team wanting to wind up Liverpool supporters. It's also the only time that people think about or mention Demba Ba nowadays.
5. That Pires/Henry penalty
In 2005 in a game vs Manchester City, two of the finest players to grace the Premier League, Thierry Henry and Robert Pires, decided that the simple act of taking a penalty needed more va va voom. The end result was disastrous. Pires should tap the ball gently but misses it entirely, much to Henry's chagrin. Luckily for them, their blunder didn't cost Arsenal the game, who went on to win the game by their customary margin (one nil to the Arsenal)
6. The Suarez handshake snub

Sorry Liverpool fans, but here's some more pain at your expense. After racially abusing Patrice Evra in 2012, Suarez doubled-down on the unpleasantries in their next match by refusing to shake Evra's hand at the start of the game. Perhaps he was making a point about the media's tendency to hype up the most trivial incidents, perhaps he is just wholly unpleasant, but either way this was the beginning of the end for Suarez in England, who subsequently claimed he was hounded out of Liverpool by the press.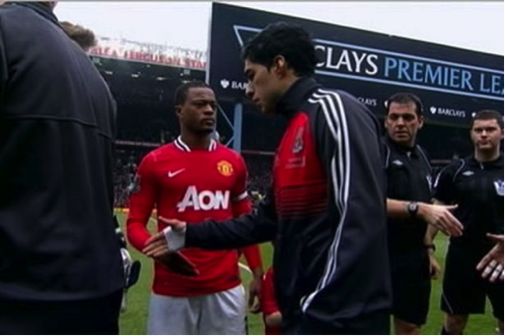 7. Mainz goalkeeper becomes airshot king 
Most airshots are caused by a bobbly pitch, an unexpected touch from an opponent or simply loosing sight of the ball for a split second. Then there's this. Mainz goalkeeper, Robin Zentner, achieved what is possibly the greatest airshot of all time in November 2017 in a game vs Borussia Monchengladbach. He takes a touch near the penalty spot then, many seconds later, swipes at the penalty spot thinking it's the ball (which is actually about 3ft away). It's a thing of beauty.
8. Robben robs Mexico
From Robin to Robben. Arjun Robben became a household name due his pace, dribbling prowess and trademark left footed curlers from the right wing. He may be less popular in Mexico, however, The Netherlands' round of 16 opponents in the 2014 World Cup. Throughout the match, Robben repeatedly dived in shameless attempts to win a penalty, which he eventually did. It is also possibly the most iconic image of a dive in world football, with Robben splayed out as though he'd been shot in the back.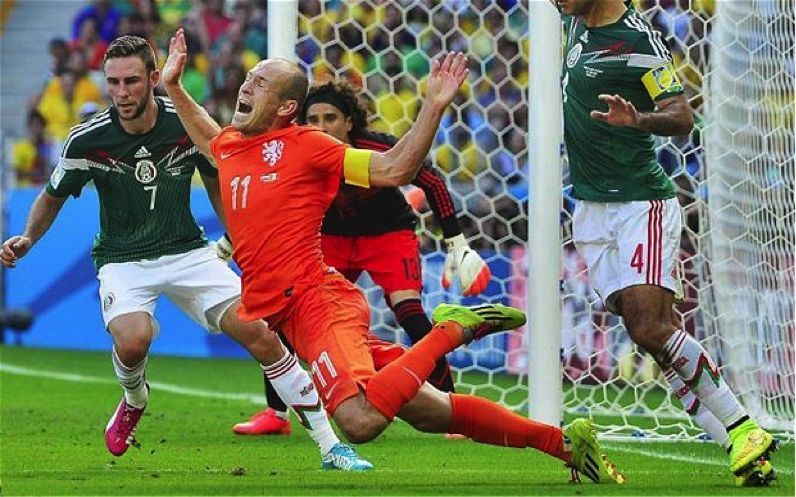 9. Jürgen Klinsmann puts diving into spotlight
No list like this would be complete without mentioning Herr Klinsmann. Playing in WC 1990 vs Argentina, Klinsmann may not have won a penalty, but he got his opponent sent off with a dive that influenced football as much as any single moment of skill or trickery, rivalling the first Cruyf turn, hand of God or Roberto Carlos freekick. The tackle may have been dangerous, certainly high, but the defender never made contact with Klinsmann… although you'd never know that based on his spectacular belly flop, headstand, triple-roll reaction which has to be seen to be believed (which the referee actually did).
10. Neymeme – Neymar's World Cup so far
Last but not least, Neymar has been one of the most decisive and divisive players this World Cup. For each dazzling high of trickery and skill, a new low follows shortly after. Whether its diving for a penalty (vs Costa Rica) diving for distance (vs Switzerland) or diving for days (vs Mexico), his antics are football's new favourite meme. A man with a pain threshold set to zero, who can blow over with the slightest breeze, all eyes will be on him during Brazil's encounter with Belgium where he will inevitably make headlines for one reason or another.
From Eric Cantona to KFC, people are queuing up to mock Neymar, it's almost enough to make you feel sorry for the lad. And if not… here's a recap of the some of the best jokes at his expense.
https://www.mirror.co.uk/sport/football/neymars-world-cup-antics-inspired-12843426
Maybe this list doesn't categorically prove that life can be better contactless, but it's where we're heading in many aspects of our day-to-day lives, from payments to driving. As referees continue to clamp down on tough tackles, maybe one day football will become a contactless sport too – god forbid.
With MuchBetter we make paying for life's costs so much more rewarding. Keep track of your finances using our app, send money to your friends and family instantly and get rewards from it all.
GIVEAWAY! We've partnered with e-wallet MuchBetter to give one lucky Caught Offside reader an incredible 60 inch 4k LG TV. All you have to do it download the app and sign up to MuchBetter today for your chance to win an awesome new telly and never miss another contactless moment. Go on and give it go SIGN UP FOR A CHANCE TO WIN.