Chelsea midfielder Cesc Fabregas has been seen 'liking' a tweet from a fan celebrating the reported sacking of manager Antonio Conte.
The Spain international is not known for his outbursts or unprofessional behaviour, having largely been a respected figure in the game for the way he conducts himself alongside the way he plays.
However, it seems Fabregas may be enjoying the fact that Conte is looking set to depart Stamford Bridge after what was widely understood to be a nightmare campaign last season.
ESPN have detailed how it fell apart for the Italian tactician in west London, mentioning fallings-out with the likes of Diego Costa, David Luiz and Willian, who edited him out of the team's FA Cup celebration photo on his Instagram.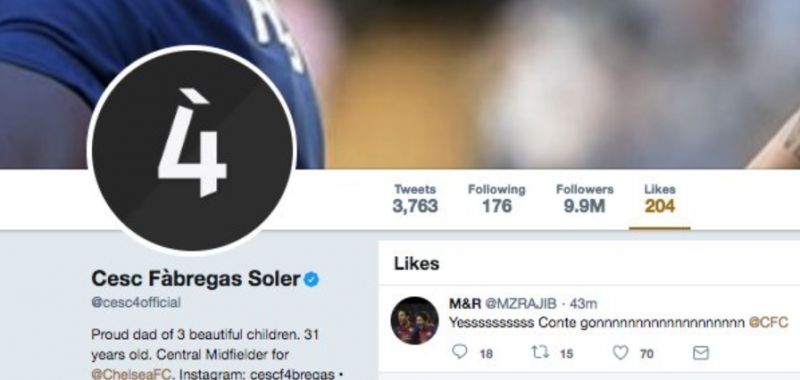 Fabregas' social media activity is now the thing attracting attention as reports circulate that Chelsea are set to announce Conte's sacking and replace him with Maurizio Sarri, though none of this has yet been officially confirmed at the time of writing.
UPDATE: Fabregas had responded to the tweet below saying he only hit 'like' by accident, but this tweet has since been deleted.
Yessssssssss Conte gonnnnnnnnnnnnnnnnnnn @CFC

— M&R (@MZRAJIB) July 12, 2018