Gianfranco Zola was recently appointed as Maurizio Sarri's number 2 at Chelsea and in his first interview for the club, he praised the new Blues boss.
The Italian Club legend has stated how impressed he's been by Sarri's training methods so far but has also stressed the importance of being patient and giving the new manager time to implement his style of play.
MORE: Chelsea finding way to accommodate Maurizio Sarri's incredible chain-smoking
"First of all I like from Maurizio the way that his teams play football," Zola said, speaking to Chelsea TV as quoted by Football.london. "They are very organised, very good defensively but also play very good football. I always like coaches that promote this type of football."
"Maurizio can give the club what they are looking for and I believe at the beginning, everybody, the environment will have to be a little bit patient.
"It is an odd year with the World Cup and Maurizio coming one week later, his philosophy and the way he plays it will need a little bit of time to settle."
According to The Times, the outgoing Blues boss Antonio Conte had a fractious relationship with several members of his squad. Back in March star player Eden Hazard was even quoted questioning the Italian's tactics publicly after last season's defeat to Manchester City, as reported by The Express.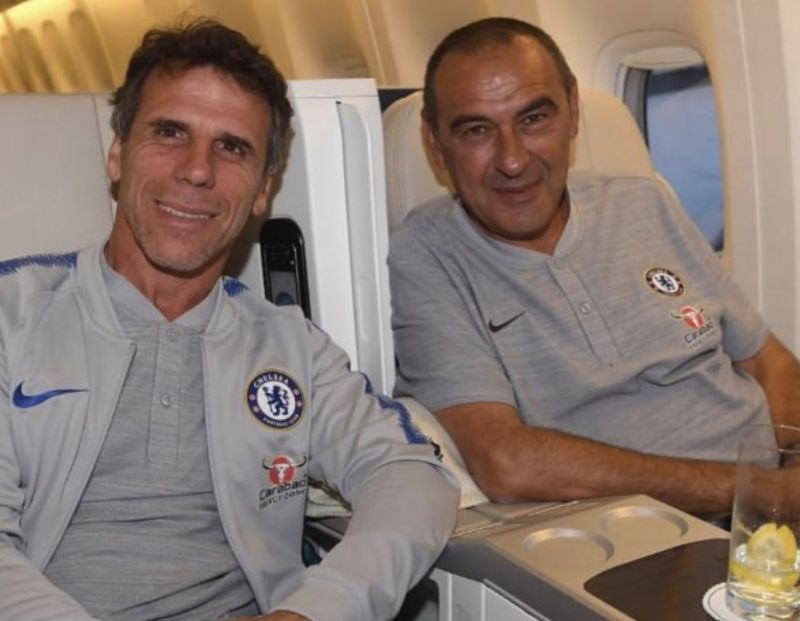 Zola seems to suggest that Sarri would represent a move away from that kind of divisive mood in the dressing room, as he added: "The the more I am spending time with him the more I am appreciating the man, the person. He is a really good guy. He looks very serious, but in reality he is good fun, he likes to have a laugh even when we are working. This is a very good thing."
Chelsea struggled under Conte last season, finishing 5th in the league and missing out on a Champions League place, so it seems this change was certainly necessary.
Sarri looks an ideal fit for what CFC are after at this point, with Zola's quotes giving fans an exciting glimpse of life under the new manager and what may lie ahead as he begins his reign at Stamford Bridge.