Last season's awful performance in the league made it clear to all that Arsenal needed a major overhaul of stars this summer, a task that has been placed in the hands of Unai Emery. 
The Spaniard took over from Arsene Wenger as Gunners boss this summer, and since, has signed a number of stars who have definitely boosted his side's overall quality.
MORE: Chelsea star sealing La Liga transfer could help Arsenal snag deal for £30M ace
With Emery managing to bring in stars such as Bernd Leno, Lucas Torreira and Sokratis Papastathopoulous, a lot of Gunners fans seem to be optimistic going into this season.
With the club only managing a sixth-placed finish in the Premier League and no success in any of the cup competitions last season, it'll be hard for Emery to do a worse job than Wenger did for the north London side.
Their new stars should definitely provide a boost to Emery's chances of bettering Wenger's performance last year.
So, we've thought about just how the Gunners could line-up under Emery for this season coming, as the club look to work themselves back into the Champions League.
Defence
You'd have to be blind to not see that both Petr Cech and David Ospina didn't have the best years of their career for the Gunners last season.
Both failed to consistently perform for the club whenever given the chance, something that shouldn't be a problem anymore thanks to the signing of Leno.
The German, who joined the club from Bayer Leverkusen for a fee of £22M as per the Evening Standard, will surely sort out the club's problems that they've had between the sticks for a number of years now, and Emery would be mad not to start him this campaign.
Hector Bellerin, despite not being at his best last year, should still be set to hold down the position of right-back, as despite the club signing Stephan Liechtsteiner, the Spaniard should have enough in his locker to start over the Swiss.
With new signing Sokratis joining from Borussia Dortmund for a fee of £17.7M this summer as per the Guardian, Arsenal's defence is set to be receive a major boost and be a whole lot better than it was last season.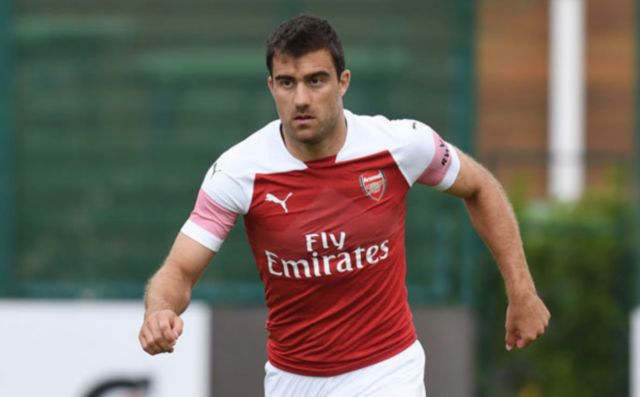 Shkodran Mustafi should be starting over Laurent Koscielny, especially considering that Frenchman is currently out with an injury.
The left-back area may be a tricky one for Emery, as with the club signing youngster Matteo Guendouzi for £7M as per ESPN this summer, the Spaniard is set to be spoilt for options in that position.
Although Monreal was one of the club's best players last season, we could be seeing Guendouzi claim a few starts in the lesser competitions such as the League Cup and FA Cup this season, as well as the group stages of the Europa League.