1) THE WATERBOY IS BACK
Ok. So we expect drinks breaks in the US of A during pre-season tours. And who can forget big Jack going bonkers during the 1994 World Cup? However, back in Blighty, such things are seen as a sign of weakness. Just look at the Community Shield. Pre-ordained breaks on 25 and 70 minutes? Is this cricket?
During the second weekend of the 2015 Premier League season, teams were given a 90-second break in several of the 3 o'clock kick-offs to rehydrate as temperatures reached 30 degrees.
This prompted MOTD' s Gary Lineker to say: "We've got water breaks all over the place. The game's gone".
However, Leicester City saw the funny side below… All we need next is Adam Sandler to appear…
There's a brief stoppage for a Drinkwater break. ? #LeiTot

— Leicester City (@LCFC) August 22, 2015
2) WHO NEEDS JOSE'S DARK MOODS IN DEEPEST SUMMER?
Jose Mourinho's mood appears to be darker than December afternoons every time he doesn't get what he wants pre-season.
As Premier League champions of 2014/15, it should have been a carnival atmosphere at Stamford Bridge as the Blues opened up their campaign against Swansea.
However, Mourinho went into full meltdown as Thibaut Courtois was sent off, Chelsea lost the lead twice and Dr Eva Carneiro treated Eden Hazard for an on-field injury in stoppage time much to the Portuguese's disgust.
The good doctor's medical notes ended up with a whopping 5 million bill compensation payout…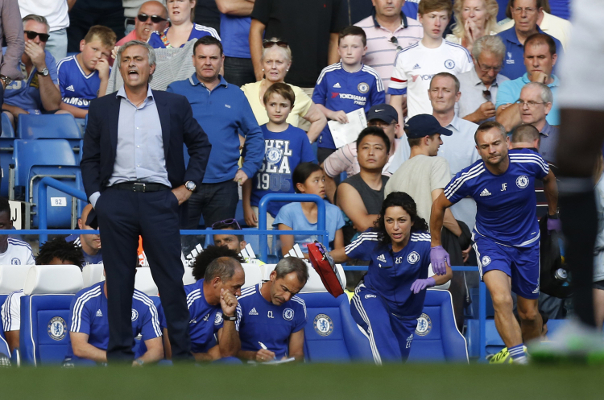 3) WE'RE TOP OF THE LEAGUE! YEAH YEAH…
August gives every team the right to have false bragging rights. Hearts, Barnsley and Brentford would have all slept soundly in their beds after the opening day, gazing down from unexpected heady heights after one match.
Come to think of it, if Watford had beaten Manchester City in their fifth game of the season last year, the Hornets would have been top of the ultimate pile for the second time in 136 years. They lost 6-0. Still, that didn't count as it was September…
5) OH WHAT AN ATMOSPHERE
There's still something of the "I know what happened last summer" at the beginning of the season. This is particularly true when an international tournament fills the June and July schedule and football saturation has been at its highest with some disheartening pre-season results thrown in.
Players and crowd alike are simply not at the races. Lunchtime kick-offs feel like a lost opportunity for a BBQ. Look at Harry Kane. He never scores until it starts getting chilly.

6) FRIDAY NIGHT KICK-OFFS:
All good things come to those who wait, but now it seems that football will barge in on the traditional Friday pre-match excitement when the last day of the working week really should be about the buzz rather than the action.
Friday night hangovers are now part of the August calendar, having been introduced successfully for the first time last season when Arsenal beat Leicester City 4-3.
Whether this month can repeat the dose when a shot-free Manchester United take on the Foxes at Old Trafford remains to be seen. It might need a few alcoholic shots to wake up the captive audience down at the Theatre of Dreams….zzzzzzzz.
7) THE SILLY SEASON IS HERE
August, they say, is the silly season – a month in which nothing serious happens and there's nothing to report. Now that Premier League clubs have voted to end the window on the Thursday before the start of the season rather than on August 31, football can now out-trump Trump in the fake news allegations.
Expect the rumour mill to go into overdrive with some incredibly made-up rubbish. Recent examples are Ronaldo to United/China (sigh), and De Gea to Madrid post fax gate (three years and counting).
At least Liverpool fans don't have to listen to Brendan Rodgers boasting: "I think we have done a really smart piece of business here." after signing Mario Balotelli in desperation…
8) NO INTERNATIONAL BREAKS
That is saved up for early September… Now that signals the real start of the season!