Former Real Madrid manager Zinedine Zidane has given a lengthy and fascinating interview about his time in charge of the Spanish giants amid links with him and the Manchester United job.
CaughtOffside understands the French tactician has spoken to his fellow countrymen Paul Pogba and Anthony Martial about being confident he could get an offer to replace Jose Mourinho imminently, so Red Devils fans may want to take note of his tactics and coaching philosophy.
After three Champions League victories in less than three full seasons in senior-level management, it's fair to say Zidane wowed a few pundits with his work at the Bernabeu.
This could make him an ideal candidate to revive United after their recent slump under Jose Mourinho, and some of his quotes in this interview with Uefa.com certainly sound like the kind of things that could appeal to the Old Trafford faithful.
In the interview, Zidane explains why he was keen to get Real playing a possession game and that he always stuck to the same principles of playing that kind of football to win games, regardless of his opponent.
Compare and contrast to Mourinho, who brought Marouane Fellaini into midfield to deal with the aerial threat of Burnley…
'I always remained faithful to the footballing philosophy that I had conveyed to my players, regardless of who our opponents were,' the 46-year-old said.
'When you have the ball, you're not trying to win it back, so you're normally in less danger. You can also make your opponents run and tire them out.
'Knowing that my players had the necessary skill set, I felt an obligation to strengthen our identity as a possession-based team – not possession for possession's sake, but possession for the purposes of attacking our opponents. At the same time, having possession is no guarantee of victory!'
Zidane adds that, while he did a lot of analysis on his team, he didn't pass on too much information to them to allow them to play their natural game.
He added: 'At Real Madrid, my coaching staff and I used to spend time on team-level analysis, but we limited what we passed on, as I wanted our team to remain focused on our own game. However, I spent time on individual analysis during the week, and I had a word with each player before each match.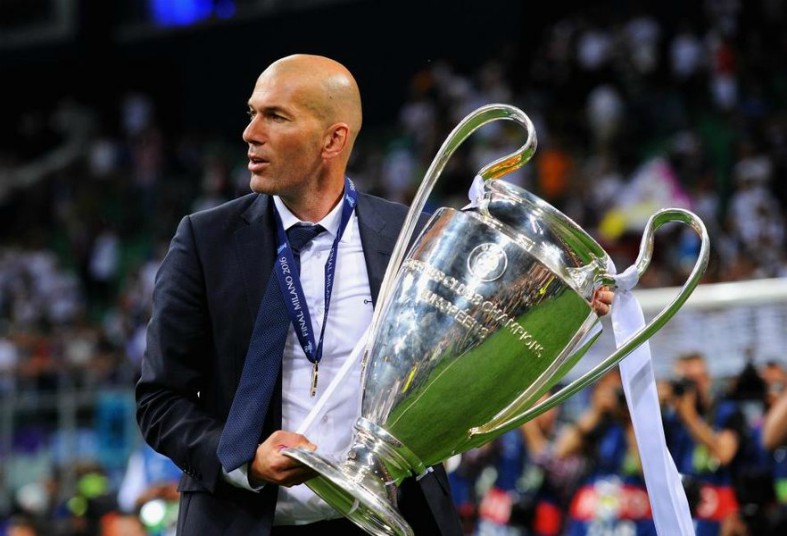 'When you're coaching Real Madrid, you have to win everything, while maintaining a certain standard of play – that's my philosophy.'
Swap 'Real Madrid' for 'Manchester United' in that last sentence and it still rings true – do you think Zidane would be an ideal replacement for Mourinho?
 Loading ...