Some Liverpool fans are reacting with real excitement to the Adrien Rabiot transfer speculation, following talk that Reds boss Jurgen Klopp has been in contact with him.
The Paris Saint-Germain midfielder is a top young talent who is nearing the end of his contract, meaning he'd be available on a free next summer.
ESPN claim Klopp has spoken personally with Rabiot about a move, and that the club have been in touch with the 23-year-old's mother and agent.
Some LFC supporters are now digging through Rabiot's history, and it seems he does have a real affection for the Merseyside giants.
Our good friends at Empire of the Kop noticed the Frenchman's Instagram post from when club legend Steven Gerrard hung up his boots…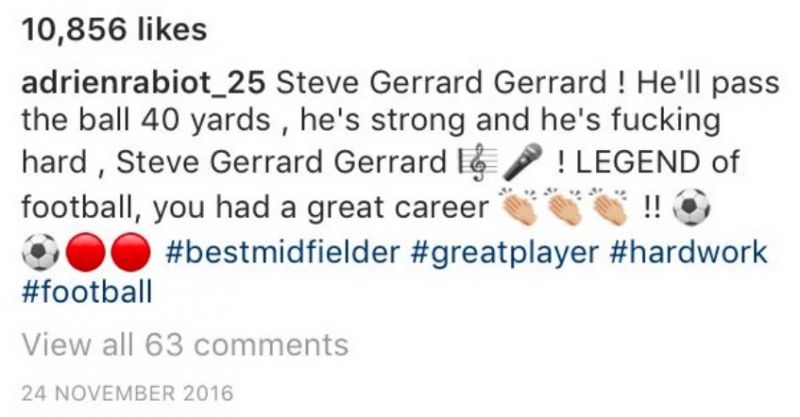 And a few others have been tweeting about Rabiot, with this Gerrard gesture clearly going down well and as something they might be worth keeping an eye on following ESPN's report of a transfer approach.
Liverpool have done well to sign some big names in recent times, so Rabiot could well follow the likes of Alisson and Naby Keita in moving to Anfield in the near future.
Adrian Rabiot is a Liverpool fan, would cost only wages, is young and versatile, a great nationality and we could bin off dead wood for him. There's literally no losses to signing him. pic.twitter.com/aSfsmbPP7i

— James™??????? (@40YardGerrard) September 5, 2018
Adrian Rabiot on Instagram when Steven Gerrard retired. pic.twitter.com/s6PDgB2SqJ

— Tottenham vs Liverpool Live Stream (@LiverpoolLive2) September 6, 2018
Rabiot is by far the most wanted midfielder in the world, he's just won the world cup, still very young and quite clearly would love to recreate Gerrard's career with us

— Ben (@YoungyLFC99) September 5, 2018
? BEEP BEEP ? urgent PSA, we are signing Adrien Rabiot and his linkup with Keita will destroy Gerrard and Alonso's legacy and we will win the treble in 19/20 and there's nothing you can do to stop it

— Quinn (@5Wijnaldum) September 5, 2018
Rabiot on Instagram when Gerrard retired ? pic.twitter.com/JmyWTLWEvQ

— LFCVine (@LFCVine) September 5, 2018
Adrian Rabiot is a Liverpool fan, would cost only wages, is young and versatile, a great nationality and we could bin off dead wood for him. There's literally no losses to signing him. pic.twitter.com/aSfsmbPP7i

— James™??????? (@40YardGerrard) September 5, 2018
Wow HE LOVE GERRARD!! Rabiot is a Red. ? #AR25 #YNWA https://t.co/OZ1iO1NHL2

— Faris (@farisofian) September 5, 2018