Former Arsenal defender William Gallas has revealed his old team-mate Philippe Senderos would occasionally have panic attacks before playing Chelsea and Didier Drogba.
The Ivorian striker had more than a few superb games against the Gunners in his time at Stamford Bridge, and proved a nightmare for Swiss defender Senderos on a couple of occasions in particular.
In fairness to Senderos, he can't take too much flak over it as Arsenal tried a whole host of defenders against Drogba but were terrorised by him in almost every game he played against them between 2004 and 2012.
Still, Gallas says facing the big Blues striker had a real effect on Senderos, who couldn't seem to handle the pressure and who seemed to be playing through the match in his head before it happened.
'I knew Philippe Senderos, before a match he would need to speak a lot, you could see that he was sweating, that he did not feel good. Especially against certain players,' Gallas told RMC, as translated by Get Football News France.
'I saw him against Chelsea, against Didier Drogba, where he would genuinely panic, like he was going through his match before playing it. And unfortunately, when you saw him on the pitch, he lost his playing abilities, he didn't play well. But against his own team-mates, he played better.'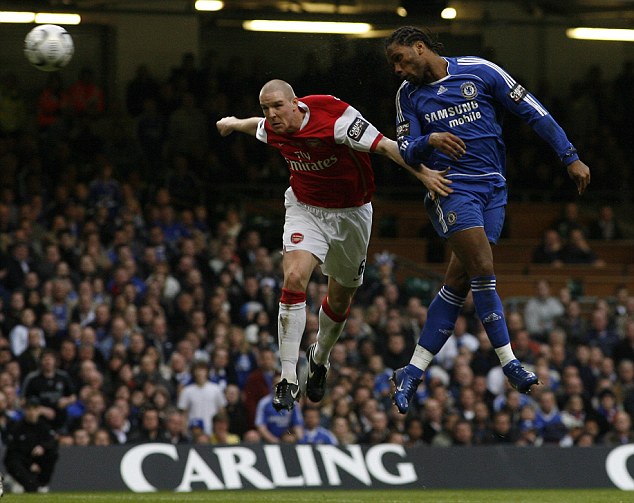 Of course, it's hard to know for sure how well Gallas read his team-mate's mood here, with the Frenchman known for being an outspoken character and for not being too popular among Arsenal fans for some of his behaviour in his time at the Emirates Stadium.
Gallas notably had a big strop as Arsenal drew 2-2 with Birmingham City, and eventually lost the captain's armband to Cesc Fabregas before leaving the club on a free transfer to north London rivals Tottenham.
There may still be some bad blood there, which might explain Gallas revealing these rather unflattering details about Senderos.