Manchester United legend Gary Neville made a comment in an interview that suggests he really might not be able to carry on doing punditry with Sky Sports if Liverpool win the Premier League.
Showing his strong allegiance to his old club United, who have a historic and bitter rivalry with Liverpool, Neville said 'I might have to come off Sky Sports if Liverpool win the league', with the Times adding he said it 'possibly joking or maybe not'.
We'd love to see if Neville would be willing to bet his punditry career on this possibility, though it would also be a big shame to lose the former England defender from our TV screens.
One of the finest pundits in the business, Neville has really changed the co-commentary game since his retirement from playing and his taking up a position with Sky Sports.
In his interview, he explains how he keeps on top of things and strives to get the best out of himself, ensuring he never falls behind.
'My view on punditry is quite simple,' he said. 'I don't believe that I've ever said Liverpool have played badly when they've not or Carra (Jamie Carragher) said they've played well when they've not. That's all that matters.
'Punditry is information, it's using your experience to see things maybe people can't see at home, and it's certainly injecting a passion. The reality of speaking without passion is the worst thing in the world.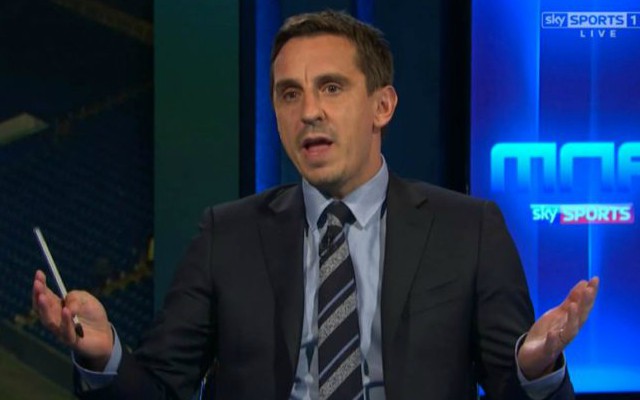 'Intelligent analysis delivered with enthusiasm, offering a different view and the odd argument, that sounds to me like a decent TV show." And, he insists, it cannot afford to be dull, especially given the competition.
'Punditry these last five or six years, the bar is raised so much higher than it's ever been. Look at Sky and even others — the days of 'oh, he's hit that well' have long gone. People expect more.
'You have to keep reinventing. You have to stay relevant because after a while you won't be known by younger fans. I always ask, 'How can I improve?'
'It's different roles, asking more questions, influencing editorial, even reporting. Because, if I don't change, I'll get stale and they'll move me on.'
 Loading ...