A growing number of Manchester United fans seem convinced it'll be Jose Mourinho who makes way at Old Trafford amid talk of a spat between the manager and star player Paul Pogba.
Footage from Sky News today showed the pair appearing to clash on the training field, which makes sense given the widespread reports yesterday of Pogba being stripped of captaincy duties, which Mourinho himself later confirmed, as quoted by BBC Sport.
The France international has struggled to hit top form at United and it seems fairly obvious that he and Mourinho are not a great fit in terms of being on the same wavelength, tactically or temperamentally.
While opinion has been a little split, we polled fans yesterday and it seems the majority want Mourinho to be the one who makes way, rather than Pogba.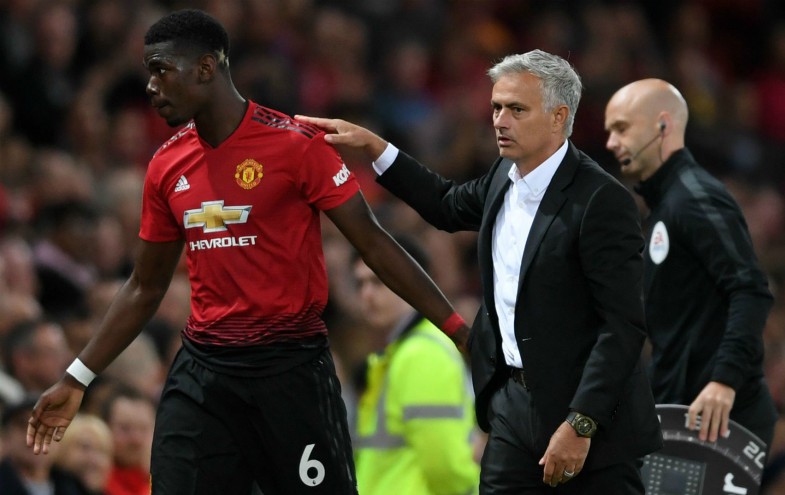 That's reflected in some tweets from fans this afternoon as many seem to think an exit is edging closer for the Portuguese tactician, who has had time to get the best out of this expensively-assembled squad and failed.
Little wonder this seems to be the mood among Red Devils supporters right now…
Honestly the sooner José leaves this club, the better. Not only is his tactic's on the field crap and boring, he's also causing an unrest in the dressing room. Had enough of it now to be honest. Party at mine when he gets sacked.

— Ryan. ? (@Vintage_Utd) September 26, 2018
Clashed with Casillas and Ronaldo at Madrid, clashed with Hazard at Chelsea and is now clashing with Pogba at United. José Mourinho is to blame for the mess that we are in, no one else.

— Ryan. ? (@Vintage_Utd) September 26, 2018
One of Mourinho or Pogba surely be gone by next season? Surely will be Jose..

— Jürgen's Reds (@JurgensBeliever) September 26, 2018
Haha Mourinho sack incoming https://t.co/FVIJPYD4Hp

— Teiko. (@Oooh_Teee) September 26, 2018
Surely Mourinho is the next premier league manager to go! I reckon he will be gone before Christmas

— JJ (@JamestheJohnson) September 26, 2018
Me when Mourinho leaves pic.twitter.com/gSrRX8hdg7

— Brett. (@utdBrett) September 26, 2018
This club is falling apart. Would be surprised if Mourinho lasts until Christmas at this point https://t.co/QxhL5eDmtU

— ~Zahir~ (MourinhoInBetween) (@DalotRole20) September 26, 2018
Mourinho losing at home to a Championship side managed by a former player of his who is a few months into his managerial career is probably the most poetic way of demonstrating how his career has gone full circle, and surely coming to a close in England.

— Mat Evans (@Matharati) September 25, 2018
This just proves it! Mourinho is aiming for the sack and he's using Pogba as a tool to get his multi million pay off!

It's time. #JoseOut https://t.co/Z57tnoRYM9

— Lee (@LeeR_07) September 26, 2018
Mourinho is absolutely dying to get the sack for a nice little pay day ? https://t.co/mDTf5ivWMy

— Ben (@benxjoyce) September 26, 2018
There's no way Mourinho makes it to Christmas

— Albie Miles (@AlbieMiles) September 26, 2018