Willy Caballero was the surprise hero for Chelsea this evening as the Blues came back to defeat Liverpool 2-1 in the Carabao Cup, handing Liverpool their first defeat of the season in the process.
Chelsea's defence had Caballero to thank for their win tonight after the Argentinian shot-stopper was called into action to stop Liverpool's devastating attack from running away with the game.
Liverpool dominated large parts of the game creating chances at will with Chelsea's defence looking unequipped to deal with the dangerous attacking threat Liverpool posed.
Fortunately Caballero was on hand to make several crucial saves throughout the game which kept Chelsea in the game.
Caballero was called into action in the first half to deny Naby Keita after he drove at the Chelsea defence and shot from the edge of the box and the former Manchester City keeper was also on hand to save a header from Sadio Mane before the 1st half drew to a close.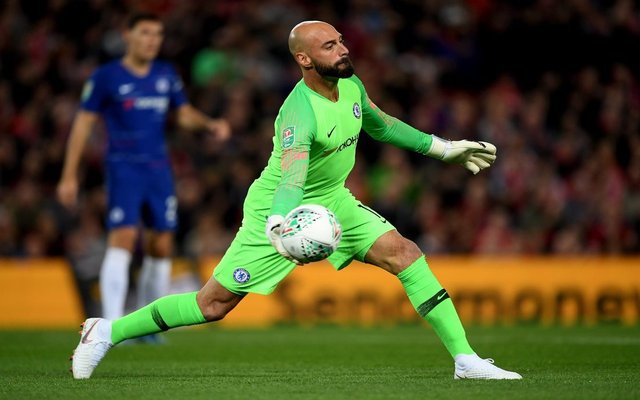 Liverpool took the lead in the 58th minute when Daniel Sturridge made amends for his earlier miss by scoring an overhead kick after Keita's shot was parried away by Caballero.
Check out the goal here.
Chelsea got themselves back into the game in the 79th minute when Emerson poked in a rebound after Eden Hazard's free-kick was met by the head of Ross Barkley.
Hazard then stole the show by scoring a magnificent solo goal in the 85th minute after beating several Liverpool players before finally tricking his way past Alberto Moreno and firing into the back of the net.
Check out Hazard's stunner here.
Caballero signed for Chelsea last summer on a free transfer after his contract expired at Manchester City and Caballero demonstrated tonight that he is a solid backup option to Kepa Arrizabalaga.
Caballero has previously been heralded for his heroics in penalty shootouts but the 36-year-old ensure Chelsea wouldn't have to go through a daunting shootout with his magnificent performance.
Check out reaction from fans to Caballero's impressive shot-stopping efforts: 
Willy Caballero was absolutely incredible tonight. We could have been 2/3-0 down if it wasn't for him. What a back up, what a keeper.

This win is all thanks to you @willy_caballero. pic.twitter.com/HTqmSxe7wv

— Uber Chelsea FC ? (@UberCheIseaFC) September 26, 2018
Chelsea – Liverpool thoughts:

– Azpi is getting concerning
– Christensen took a step back
– Cesc bright early but tired quickly
– Willian was… nevermind
– Moses was Moses, decent
– Morata needs a name change next
– Caballero earned his paycheck
– Hazard is the best in the PL

— Alex Goldberg (@AlexGoldberg_) September 26, 2018
Chelsea FC vs Liverpool thoughts:

• Hazard and Luiz game changers.
• Azpilicueta, Christensen, Emerson, Willain, and Morata were dreadful.
• Barkley and Moses average.
• Caballero kept us in the game.
• Undeserved but I'll take it!

We go again on Saturday.

— • (@Chelsea_Related) September 26, 2018
@willy_caballero Limited games but always Gives his all better than many keepers 5-10 years younger than him

— jeffrey Mejia (@jeffrey93960730) September 26, 2018
Willy Caballero deserves a lot of praise for his performance aswell. Kept Chelsea in the game when those in front of him done their best to put him in unwanted situations.

— WAGNH (@WAGNH_CFC) September 26, 2018
Barkley with a shocking header. Caballero somehow denies Mane.

— Chelsea HQ (@Chelsea_HQ) September 26, 2018
TWO BIG SAVES FROM CABALLERO TO DENY LIVERPOOL!

— Footy Accumulators (@FootyAccums) September 26, 2018
Great save from Caballero to keep the score level #LIVCHE #CFC #KTBFFH pic.twitter.com/DuvboUIbaF

— CFC-Blues.com (@CFCBlues_com) September 26, 2018
CABALLERO!!!! HE SAVED OUR ASSES WITH NO MISTAKES, AND FIXING THE MISTAKES OF OTHERS

— Future Biologist (@ali_srour96) September 26, 2018
Caballero was Awesome tonight.
His Contribution today kept us in the match.
Well done Willy! Very happy that you stepped up today and gave a Classy performance. #LIVCHE #chelseafc

— Shubham Shah (@Shu_07_bham) September 26, 2018
Willy Caballero saved us tonight. Worldclass saves???? #CFC

— jughead scott? (@Tom_Tom23BJ) September 26, 2018
Caballero came through clutch!

— OG. (@OGee_) September 26, 2018
Chelsea will be beaming with confidence after tonight's win.
Maurizio Sarri's side must now turn their attention to facing a full strength Liverpool side on Saturday evening in the Premier League.