An Arsenal fan on Twitter had several complaints about Match of the Day's coverage of the club's 5-1 win over Fulham yesterday.
The Gunners were in superb form to demolish their London rivals, playing some slick attacking football from start to finish and scoring a number of beautifully worked team goals.
However, this Gooner was not at all happy that MOTD *criminally* only showed one replay of the Aaron Ramsey goal, which was perhaps the pick of the bunch.
The Wales international flicked the ball in nonchalantly after a brilliant counter attack by Arsenal, and this fan complained that had Chelsea star Eden Hazard scored it, it would have received more attention.
We'll leave you to make your own minds up about that, but MOTD pundit Alan Shearer was having none of it as he took to Twitter to respond to this moaning Arsenal fan.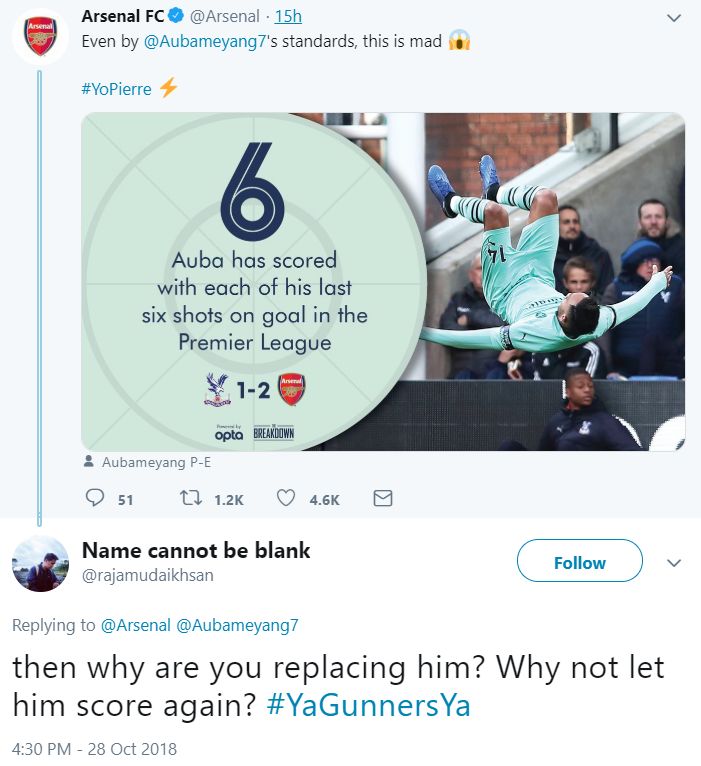 Stop f…… moaning man. You won and won very well. We rightly praised the performance. Arsenal fans ????? https://t.co/8U2ANMHHti

— Alan Shearer (@alanshearer) October 8, 2018
The Newcastle legend was clearly unimpressed and felt this was a fairly typical complaint by Arsenal fans, who are known for being vocal on Twitter and expressing the view that their club receives harsh treatment by the media.
Quite why anyone would have an agenda against a football team is beyond us, but there you go. Shearer puts him in his place quite perfectly here, so let that be the end of it.