Ian Holloway has singled out Anthony Martial for criticism at Man United, highlighting his poor attitude on the pitch when it comes to defending.
The Red Devils won 3-2 against Newcastle United at Old Trafford on Saturday in the Premier League after a pulsating encounter which started off horribly for the home side.
United were two nil down after 10 minutes and went in at halftime facing the prospect of losing their fourth match of the season, to pile more pressure on under-fire boss Jose Mourinho.
SEE ALSO: Man United transfer target admits he would accept a move to Old Trafford in January
Ex-Man United defender backs Mourinho with Sir Alex Ferguson comparison
The surprise Man United player Jose Mourinho turned to for help at half time of Newcastle comeback
However, after the break, Mourinho's men were a completely different side as they threw caution to the wind and went at the Magpies from the off, eventually halving the deficit in the 70th minute via a well struck Juan Mata free kick.
Martial then came up with the equaliser six minutes later after a neat one-two with Paul Pogba on the edge of the box, which set the stage for Alexis Sanchez to head home the winner in the 90th minute.
The result was sorely needed for everyone involved with the club and gave fans a glimpse of what the team is capable of when given the license to attack, but Holloway ripped Martial to shreds for his display despite his crucial second-half strike.
"How can Anthony Martial not run back?" the pundit told Talk Sport on Monday.
"You've got two things to do – you go forward on a Kawasaki 1500 and you come back on a faster bike, you don't come back on a scooter, son!
"He stood still and argued with him! I don't understand, who is he to do that?!
"You are not bigger than Manchester United, mate. Nobody is bigger than Manchester United."
The Frenchman has struggled to establish himself as a regular in Mourinho's starting XI over the last couple of years amid reports of a fractious relationship between the two men and transfer speculation over the summer, as per Sky Sports.
The 22-year-old's immense talent has never been in doubt, but he does look disinterested at times and seems to struggle in the face of adversity.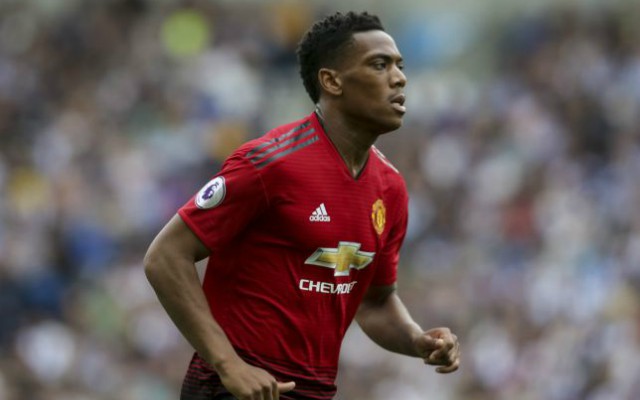 Supporters will hope that his latest goal for the club can be the catalyst for a change, with Chelsea next up for the Red Devils at Stamford Bridge after the international break.