Diego Maradona's controversial actions have once again hit the headlines with the Argentina legend launching a scathing attack on Lionel Messi.
Maradona went on record to hit out at Messi's performances whilst representing Argentina and even went as far to say he wouldn't call up the superstar to international duty again in a report published by The Mirror.
Barcelona star Messi has often found himself as the 'scapegoat' for his country in recent years after they have failed to achieve the success that fans would have hoped on the international stage.
Maradona's sensational outburst came when the 57-year-old appeared on 'The Last Word Mexico' television programme.
See More: Lionel Messi could leave Barcelona on a free in 2020 because of this clause in the superstar's contract
Here is Maradona's outburst in full: 
"Messi is a great player but he doesn't get it," said Maradona.
"Before speaking to the manager, he will be on the PlayStation and then on the field, he asks to be and wants to be the leader.
Messi has struggled to lead Argentina to glory on the international stage. Messi famously missed a penalty in the 2016 Copa America Final penalty shootout against Chile.
Messi's willingness to represent Argentina has also been questioned with the 31-year-old retiring from international football after his Copa America penalty miss only to reverse his decision later.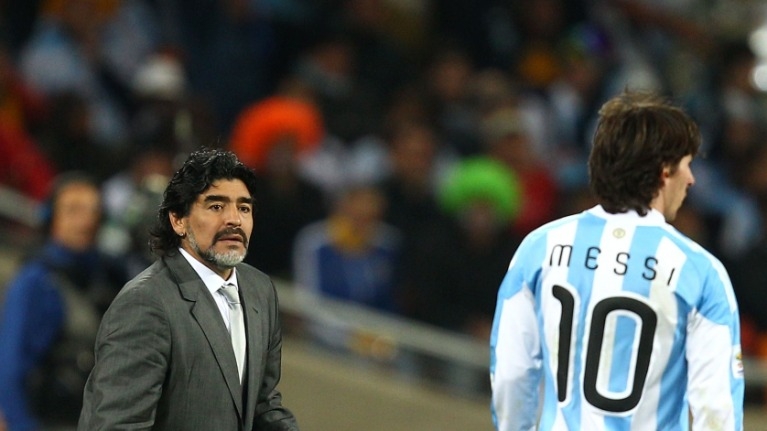 "He is the best in the world along with Cristiano,"
Maradona also raised Messi's toilet habits as a reason as to why he shouldn't captain the national team:
"It's useless to make a leader of a guy who goes to the bathroom 20 times before a game."
"Don't worship Messi anymore. Messi at Barcelona is one thing and with Argentina he is another one."
No one would have expected Maradona to launch such a vicious attack on one Argentina's greatest sporting icons ever.
Messi's success for Barcelona and failures for Argentina have become a major talking point in the five-time Ballon d'Or winner's career.
On calling up Messi for international duty, Maradona had this to say:
"I wouldn't call Messi but never say never," he said.
"You have to take the pressure off him in order to get the leader we want Messi to be, that he will not be. You say to Messi to 'throw yourself in head first' but he prefers to play video games."
Maybe the time has come for Messi to retire from international football the star's only international honour to date is winning Olympic Gold with the Argentina football team at the 2008 Olympics in Beijing.