Manchester United boss Jose Mourinho has revealed that if 'money was no object' he would love to sign Eden Hazard from Chelsea.
The two men worked together at Chelsea between 2013 and 2015, as the Blues won the Premier League title for the fourth time in their history.
The Portuguese coach initially managed to get the best out of Hazard as he finally realised his potential as one of the best players in English football, but their relationship soured at the start of the 2015-6 season.
SEE ALSO: Manchester United will reignite pursuit of Serie A starlet in January
Mourinho's 'No.1 fan' insists he is still the right man for Manchester United
Manchester United star's woes continue as fans criticise his latest international display
The Blues endured a horrifying opening few months that year, losing week in week out in a meek defence of the title they had won the previous year, which ultimately cost Mourinho his job.
According to the Manchester Evening News, Hazard admitted that he was partly at fault for the club's failure that season, while also revealing he would love to work with Mourinho again in the future.
The 55-year-old manager clearly feels the same if Wednesday's latest news is anything to go buy, as he has reportedly named the Belgian as his ideal transfer target at United – as per MEN.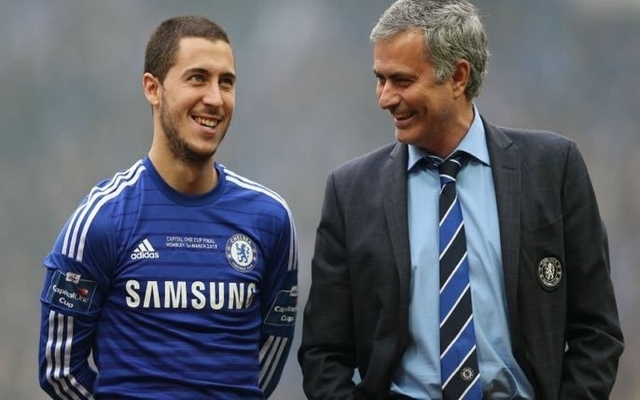 The Chelsea superstar has been heavily linked with a move to Real Madrid in recent months and Mourinho has been mentioned as a possible candidate to replace Julen Lopetegui at the Santiago Bernabeu, as MEN also reports.
However, Mourinho's job at Old Trafford is still far from finished and his latest comments might also suggest that United are willing to hijack any approach for Hazard from the Spanish giants in the future.
The 27-year-old attacker has been fantastic at the start of the 2018-19 campaign and he will face off against Mourinho again on Saturday with Chelsea when United travel to Stamford Bridge in the Premier League.
Depending on the result, Hazard might find himself leaning towards a reunion with his former boss next year, but Chelsea would surely rather he went to La Liga than move up North to their fierce domestic rivals.