In the two pictures above you'll see two men.
On the left, legendary Chelsea manager Jose Mourinho holding up three fingers in triumph as he guides the Blues to yet another Premier League title just three years ago.
On the right, a bad copy of the same man holds up three fingers at the same fans again, this time as manager of rivals Manchester United, in a defiant attempt to remind the Stamford Bridge crowd that have so quickly come to hate him that he remains, in fact, the same man.
Such is Mourinho's fiercely competitive nature, we should perhaps not be surprised that as manager of a major rival of Chelsea's, he now rubs those old supporters up the wrong way just as he did when adorning the west Londoners' crest on his tracksuit. And yet it is still surreal to hear chants of 'f**k off Mourinho' from the crowd at the Bridge at the weekend, following on from chants of 'Judas' last season.
BBC 5 Live pundit Robbie Savage called it 'disgraceful' from CFC supporters, while current boss Maurizio Sarri urged his fans to show their former manager 'respect' for what he'd achieved, as quoted by Sky Sports.
United blogger Dale O'Donnell, editor of Stretty News, agrees, telling CaughtOffside: 'Those who taunted Mourinho are idiots. Small time Charlies who have forgotten what Mourinho had done for the club, like winning three titles – including their first in 50 years. Roman (Abramovich) may have pumped the money needed into the club, but Mourinho put the puzzle together. Their behaviour was embarrassing on Saturday.
'Mourinho is Chelsea's greatest manager of all time … but they're a strange bunch aren't they? "Fuck off Mourinho" did the rounds on Saturday. It won't be long before they're singing the same about Sarri.'
Of course, not every Chelsea fan present will have been joining in that chant, and can we even really read too much into it if they were? Football matches will always be place for banter, with Thierry Henry ironically booed when he returned to the Emirates Stadium with Barcelona, even though there can be no question he remains one of Arsenal's greatest and most-loved players.
Chelsea News editor Will Faulks believes a bit too much is being made of the whole thing, insisting there is still love from Chelsea fans for their former hero.
'There's certainly a mixed reaction these days but the idea that he's getting taunted or abused by large groups is just wrong,' Will tells CaughtOffside. 'Just look at the reaction when he gives the three finger gesture to the stand – the camera pans across and there's largely just a puzzled indifference from the crowd.'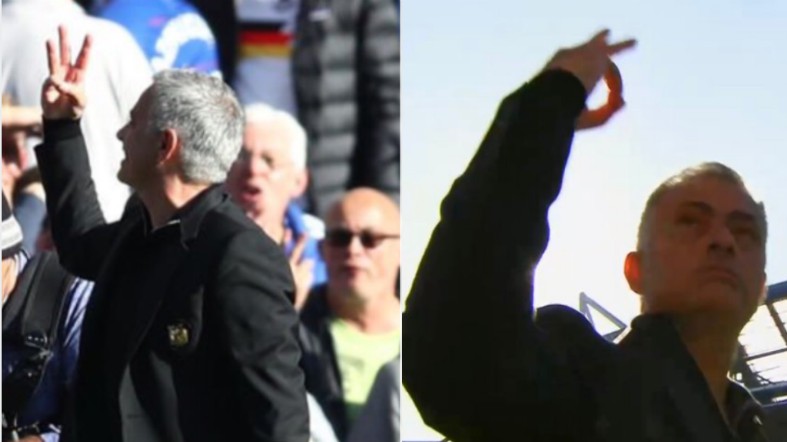 Does Mourinho remain a Chelsea legend in Will's eyes? 'Unquestionably. The best and probably most significant manager we've had, at a vital time in the club's history, who set us up for a run of success that changed the club forever. There is tension now because he's managing a rival, but his time at the club will always overshadow that, and once he's retired or managing elsewhere I'm confident relations will be excellent once again before too long.'
Another Blue, TalkChelsea editor Jamie Wilkinson, is less positive about the Portuguese, however, with his recent vendetta against Antonio Conte clearly leaving a sour taste with some, rather than just resulting in light-hearted goading.
'Mourinho's not the man nor the manager who achieved so much at Chelsea,' Jamie says. 'The affection we had for him has faded with time. His continual arguing with Antonio Conte didn't do him any favours. He's the enemy now and is being treated in accordance to that.'
United fans 'loved' Mourinho's three-finger gesture to the crowd, according to Dale, but Jamie felt it was uncalled for.
'Not sure who Mourinho thinks he is showing three-fingers to the East Stand Lower,' he says. 'He of all people should be aware that the only people sitting there are families with their young children. Something tells me they weren't the ones telling him to 'f*** off' throughout.'
'We loved it,' says Dale. 'Mourinho always made it clear he respected Chelsea and their fans, but they're a bunch of children.'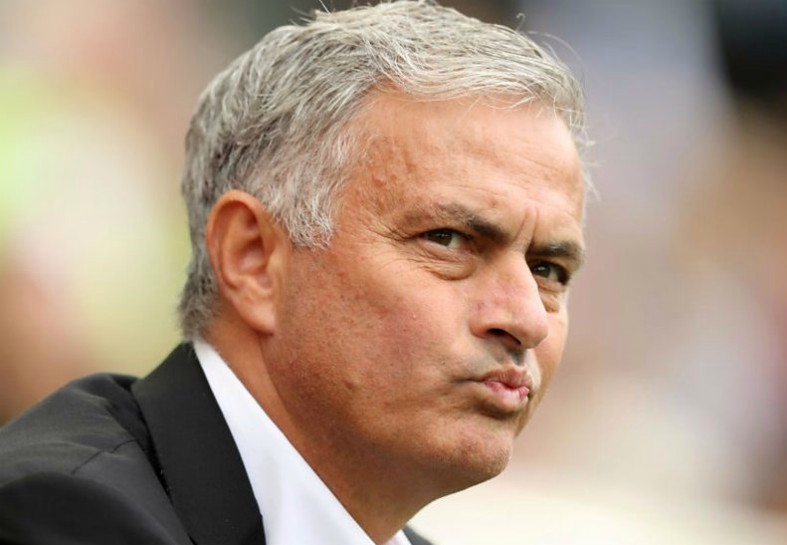 Loading ...
It certainly seems a pretty unique situation to have a manager having to defend his reputation at a ground where he won three league titles, but love is not unconditional. The last few years of media strops, ugly rows with players and staff and other shows of petulance when things have not gone his way have certainly left a stain on his reputation.
In many ways, it remains heartening that fans have enough in them to see past merely winning trophies. There is, after all, more to the game and to life in general. So does Jamie still consider Mourinho a Chelsea legend?
'Mourinho is a Chelsea legend,' he says. 'He's our greatest ever manager. Nobody can tippex his name out of our history books, but the fans who grew up adoring him are now finding him difficult to stomach. Only time will tell if he's remembered as a hero or a villain.'
Short answer: Yes. But that reputation must be earned, and can be easily tarnished, as the Special One is fast finding out, no matter how many fingers he holds up.