An Eden Hazard photo posted by Callum Hudson-Odoi has seemingly caused a bit of a stir among Chelsea fans on Reddit.
The Belgium international can be seen in the snap below posing in a jokey manner in what looks like the same room the club usually unveil signings in.
It could well be that Chelsea are now preparing a similar announcement for a new contract for Hazard, whose future has been the subject of much speculation for some time.
Just today the Mirror reported again of Hazard's potential move to Real Madrid, which they state would be less likely if Antonio Conte is named their next manager.
There has also been increased talk that the 27-year-old's superb start to life under Maurizio Sarri could also see him sign a new contract, sparked by a report from Gazzetta dello Sport, translated by the Metro.
Here's the photo, which prompted one fan to ask others if they thought it looked like a leaked contract announcement picture…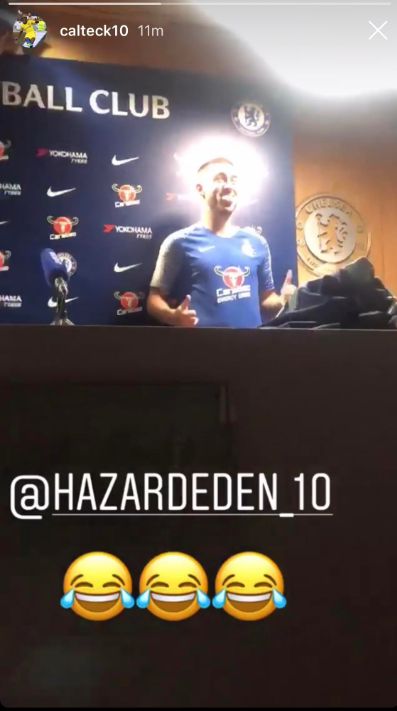 Others seem less convinced that that is what's going on, with one fan saying: 'Fingers crossed but it's more likely just some media commitment. Would Chelsea really allow something this big to be spoiled by one of the players?'
Another said: 'Don't think they'd announce the signing in the Carabao gear. Or am I looking too much into that?'
Still, a few posted comments like 'Don't do this to my heart' and 'Don't go pulling my heart strings like this', suggesting it had got their hopes up a bit.
We'll all have to wait and see…