Manchester United manager Jose Mourinho is being widely mocked on social media today for one particular comment after the Juventus game.
The Red Devils are on a worrying run of just one win in their last seven games in all competitions after a 1-0 reverse at home to Juve on Tuesday night.
A few noticed at the time that Mourinho didn't even make any substitutions in the entire 90 minutes, and his explanation for this afterwards has not gone down well at all.
United fans and neutrals are all shocked to see the Portuguese single out the absent Marouane Fellaini as a player that could have come on to change things around for them against Juventus.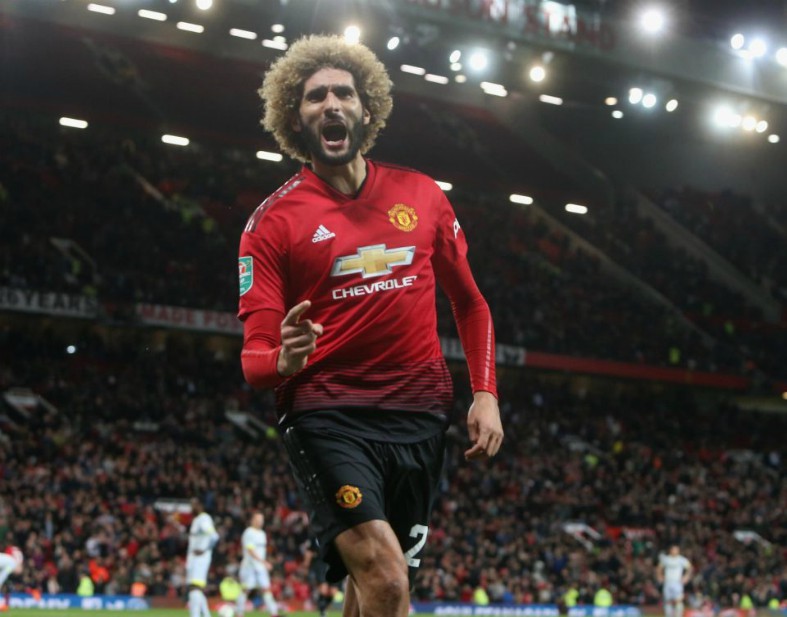 MORE: Man Utd tipped to make move for La Liga star to replace Alexis Sanchez
While the Belgium international undoubtedly has his uses as a squad player, United have invested huge amounts in big-name signings like Paul Pogba, Romelu Lukaku and Fred, all of whom were available.
To talk up Fellaini as a game-changer in a match of this magnitude sounds more than a little desperate, and these fans are not at all impressed…
We've officially hit rock bottom, Mourinho has said that he didn't have the option of bringing on Fellaini to change the game……!!!!! Lost for words! #MourinhoOut

— Paul Andrew (@fkglimey) October 23, 2018
fave Mourinho quote after the loss to Juve at home…"we didn't have Fellaini to change the game" ?

— Arka Das (@thearkadas) October 24, 2018
"We really missed Fellaini" Mourinho…..Talks about aspiring to be City, Juve, Barca, Madrid and yet all four of those clubs would rather shut down than use a player like that.

— The United Stand (@UnitedStandMUFC) October 23, 2018
Any manager who says we missed Fellaini needs to be mentally assessed. Mourinho has lost the plot. #MUFC

— ??Jordan?? (@J_Woodhead_) October 24, 2018
Evolution of Jose Mourinho at Man Utd:

"I prefer to be more aggressive and say we want to win."

"We will find it difficult to compete."

"After the draw, we knew it would be a fight with Valencia for second position."

"We really missed Fellaini." pic.twitter.com/cmQS8aNQZH

— Paddy Power (@paddypower) October 24, 2018
Mourinho actually said "this game would have been different with Fellaini" I'm having difficulties to breath rn

— . (@Hazpillian) October 24, 2018
Mourinho begged Fellaini to stay… that shows us what direction he wants to take this club in. Fellaini is a good player on his day, but his style of play & attributes are not that of a Man Utd player we enjoy to watch week in week out. #MUFC

— Phil (@cr7isthagoat) October 24, 2018
Mourinho was really gonna look at Fellaini to save the day lmaooooooo I'm tired of this man

— ? ? (@IzzyIsOptimus) October 24, 2018
Fred, Pereira, Herrera and Chong on the bench and Mourinho doesn't make a sub because he misses his option to fucking lump it at Fellaini. I fucking despise him, honestly.

— John (@JulyTeeM) October 24, 2018
Oh mourinho you can fuck off. Poison this man. Fellaini to change the game. Thats a fucking joke right? Pack your bag and fuck off please. https://t.co/KahsFA4wUx

— Dan Clarke (@Clarkey_1987) October 23, 2018