Manchester United legend Gary Neville has taken aim at the Glazer family and has blasted United Chief Executive Ed Woodward over a lack of support for Jose Mourinho.
Neville voiced his opinion on a range of topics to do with United in the latest issue of Red News which went on sale prior to United's Champions League clash against Juventus on Tuesday evening.
Courtesy of Stretty News CaughtOffside can delve into the Neville's opinion of the United hierarchy, Ed Woodward and owners – the Glazer family.
See More: Reaction of Italian media as they revel in Jose Mourinho defeat to Juventus
This isn't the first time that Neville has criticised the United hieararchy earlier this month Neville launched a passionate rant directed towards the hierarchy, claiming that they were "playing football manager with the biggest club in the world".
Former United captain and current Sky Sports pundit Neville told the Red News fanzine:
"It took a lot for me to be critical of Ed Woodward but I felt as though it was needed. I think that when you don't support the manager in the transfer market – and it's quite obvious that Jose Mourinho wasn't supported – it's a very dangerous road to go down."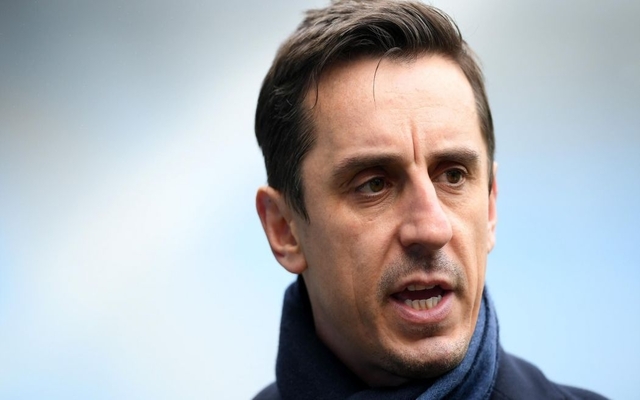 A major problem with United in recent months is the lack of support shown to Jose Mourinho in the transfer market from Woodward and the United board.
Fans, Mourinho and pundits alike have been calling for the signing of a commanding centre-back for years, United haven't had real leaders to marshall the defence since the likes of Rio Ferdinand and Nemanja Vidic.
This area should have been addressed by Woodward and the recruitment team should have made signing a centre-back a priority over the summer.
Neville also spoke of how having 4 different managers in recent years has led to inconsistencies in the recruitment process:
"At United, the problem is that you have got a team built by four different managers."
"From the recruitment, to the succession planning, the pin-ball of moving from one value of manager to another: from Moyes, to Van Gaal, and now Mourinho; there is no consistency of approach. So, my view is that it stems back to the owners."
Manchester United are in a state of limbo key areas of the pitch such as the centre-back pairings have been 'chopped and changed' far too many teams over the years which is a massive factor as to why United seem to be leaking goals this season.
United have far too many centre-backs at the club and unfortunately none of them seem to have fit the bill and those who looked they could've have failed to maintain a place in the starting line-up for a prolonged period of time.
Thanks to our friends at Stretty News and credit to Red News who produce a must-buy fanzine for any United fans.