Joe Gomez – who was once told by Liverpool manager Jurgen Klopp to 'lose the beach body' is now one of the quickest centre-backs in the Premier League.
The 21-year-old who was unable to play for Liverpool between October 2015 and January 2017 has completed a remarkable turnaround from that devastating cruciate ligament injury which has shown in his performances at the start of this season.
See More: Pundit convinced Liverpool at risk of losing 'unhappy' Mohamed Salah, exit threat as soon as January
Gomez talked about his career to date in an exclusive interview with the MailOnline. Gomez now looks in a lot better shape and Klopp telling the youngster to lose the muscle and the 'beach body' has definitely contributed to Gomez's rise to the top.
Gomez clocked an impressive top speed of 21.6mph during Liverpool's win at Leicester earlier this season. Gomez is the second quickest centre-back in the league behind only Huddersfield's Terrence Kongolo.
Gomez's centre-back partner Virgil Van Dijk came in only .1 behind the England international recording a top speed of 21.5mph.
Gomez and Van Dijk are not only some of the quickest centre-backs in the league but they have also recorded a higher speed than anyone else at Liverpool more so than speed demons Mohamed Salah and Sadio Mane.
On his speed and whose the quickest at Liverpool Gomez had this to say:
'Virgil van Dijk is quick and he has hit some good speeds, too,"
'Obviously Mo Salah and Sadio Mane are fast. Mo and Virgil have bantered about having a race but I think a few of us would fancy ourselves. Not that the sports science team would allow it!
'I think over the first 10 yards me and Virgil would be looking at Sadio and Mo's backs. But we may claw some back towards the end.'
Check out where Liverpool's fastest players rank among themselves in this article from our friends at Empire of The Kop
Gomez has nailed down a first-team place for the Reds this season and former Charlton academy graduate is now beginning to go beyond the potential that fans first though he may have.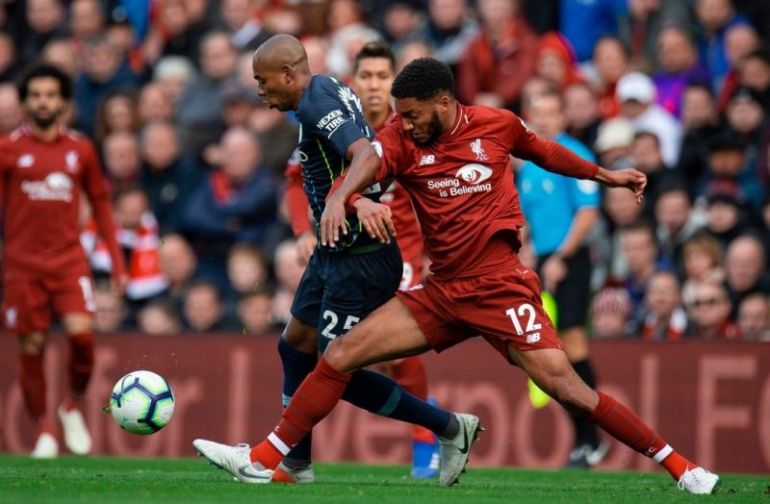 Gomez was recently recalled into Gareth Southgate's England squad after his impressive start to the season and at only 21 years old Gomez could be a mainstay in the national team for the next decade.
After the 3 o'clock kickoffs across Europe today Juventus will face off against Empoli and if you'd like to follow all the action from Cristiano Ronaldo and the 'old lady' live check out the link below.
Empoli vs Juventus Live Stream: Watch Serie A giants in action online or on TV