Arsenal manager Unai Emery has given his take on two incidents in the Crystal Palace game today as he appeared to clash with Mesut Ozil and Alexandre Lacazette.
Firstly, Ozil did not respond well to being subbed off in the second half, as he was pictured seeming to reject his manager's embrace as he walked straight past him and threw his gloves to the floor.
Later, Emery was spotted reprimanding Lacazette, whom he also criticised after the game as the Gunners saw their eleven-game winning streak come to an end this afternoon.
Arsenal fans may not be too concerned by these incidents, however, as it arguably makes a welcome change from the Arsene Wenger era when the team were often criticised for not caring enough and for being too soft.
Emery's standards are clearly high, and he also explained he was pleased to see Ozil's reaction as he believes it's normal for players not to be happy when they're taken off early.
The Spaniard's quotes to his press conference have been collected here by football.london as he responded to questions on Ozil and Lacazette.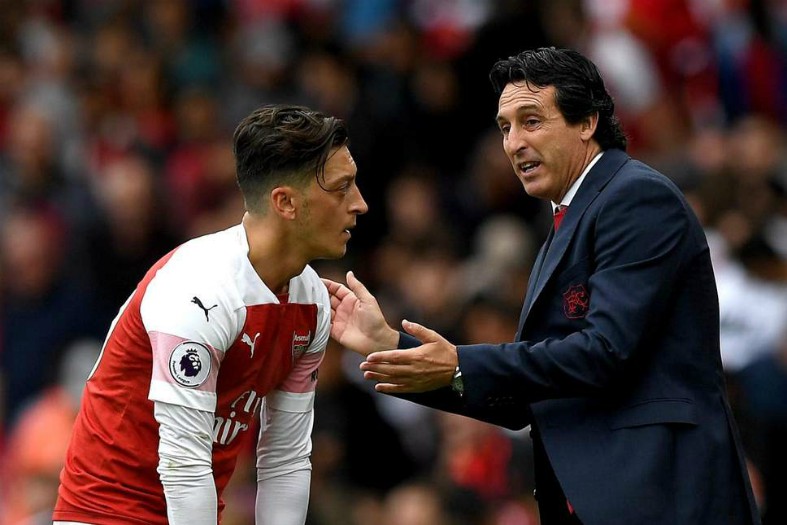 On Ozil, he said: 'It's normal. He was not happy.
'It's normal. I like players to show us the character when we are not playing well.
'I subbed him when we were 2-1 and usually players want to continue.'
On Lacazette, he said: 'We can't do the mistakes on the pitch.
'In the second half Lacazette was a bit less in his thinking, I was wanting him to find that.
'When we are in the box I want the players to take the responsibility to take the [decisive] action.
'When we were 2-2, I wanted to push for that [for the win].'