Leicester City owner Vichai Srivaddhanaprabha is at the centre of a tragic story coming out of the King Power Stadium this weekend.
Mr Srivaddhanaprabha's helicopter crashed in a car park just outside the Foxes stadium on Saturday night, following the team's 1-1 draw against West Ham United.
The game ended an hour before the vehicle took flight and it has been feared that the Leicester chief was on board with his family, as it is his normal mode of transport when leaving the ground after home games.
According to the BBC, Mr Srivaddhanaprabha was in fact in the helicopter when it came down, as a source close to his family has revealed.
This latest development has yet to be confirmed by police, but fears are growing that the Thai businessman has lost his life in this heartbreaking incident in Leicester.
Under his ownership, the club has enjoyed immense success over the last few years, most notably winning the Premier League title despite being 5000-1 outsiders back in 2016 and the fans have fondly embraced Srivaddhanaprabha as one of their own as a result.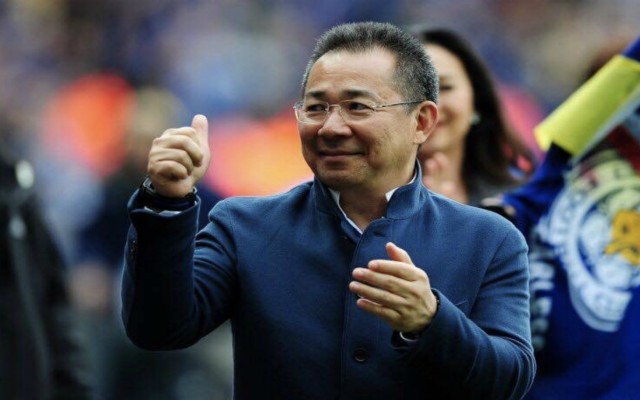 As BBC News also reports, Foxes goalkeeper Kasper Schmeichel was witnessed running towards the scene by one bystander, but it it is still not yet known for sure who was on board or if there are any casualties after this horrific incident.
An update from the Daily Mirror states Srivaddhanaprabha was accompanied by his daughter on the helicopter, though his son, another club director, was not on board or at yesterday's game.
A club statement last night read: "We are assisting Leicestershire Police and the Emergency Services in dealing with a major incident at King Power Stadium.
"The Club will issue a more detailed statement once further information has been established."
**UPDATE**
Sky News on Twitter has confirmed that Vichai Srivaddhanaprabha was on board the helicopter, along with his daughter, two pilots and an unidentified fifth person.
BREAKING: Leicester City owner Vichai Srivaddhanaprabha was on board the the helicopter which crashed outside the stadium.

The owner's daughter, two pilots and an unidentified fifth person were also on board.

For more on the story: https://t.co/1yjDmmRTBC pic.twitter.com/z3eHCR8H7y

— Sky News (@SkyNews) October 28, 2018