Some remarkable stats show where Arsenal would currently be in the Premier League table this season if all games had ended at half time.
The Gunners have made an interesting start under new manager Unai Emery, with some good results masking some slightly dodgy performances in many of their games.
It's no easy job coming to the Emirates Stadium and taking the place of a club legend like Arsene Wenger, particularly with Emery inheriting a squad arguably far weaker than the rest of the top six, and with less money to spend than most of those teams too.
Still, Arsenal did recently win eleven in a row until their draw with Crystal Palace on Sunday, but they were again trailing at the break yesterday before scoring twice in the second half to turn things around.
That has been the story in many of their matches, and BBC Sport have revealed the north Londoners would be 17th – just a point above the relegation zone – this season if their half time scores had remained until full time.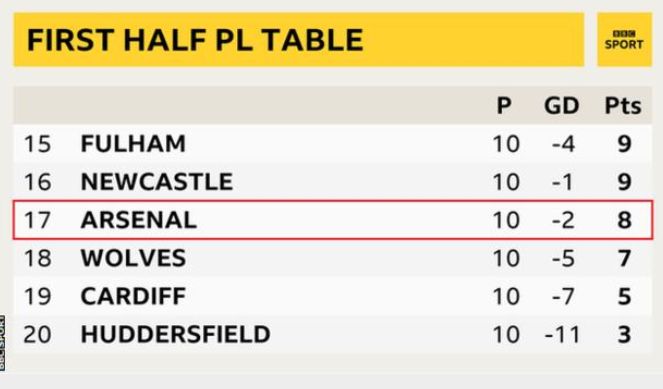 Should this be worrying for Emery and Arsenal as they continue to get off to slow starts, or is it an encouraging sign of their ability to grind out results and keep their cool despite trailing?
Only time will tell if this is a sign of deeper trouble at the club or of a new-found fighting spirit that was sorely lacking for much of the latter half of the Wenger reign.
 Loading ...